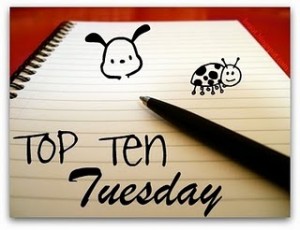 I am having trouble with the plugin that handles Amazon links, but I decided I should publish this anyway before the expiration date on this topic is too long past.
I like this week's Top Ten Tuesday topic. Which books should be made into movies? Here's my list:
The Night Circus, Erin Morgenstern. I think this book would be great in Tim Burton's hands. It wasn't my favorite read, but it has such strong imagery that it's begging to be made into a movie. I think I heard somewhere that it actually has been optioned.
Outlander, Diana Gabaldon. It would probably only work as a miniseries, and God knows who they would cast, but it's such a great series. I'd love to see the books made into films à la The Thorn Birds.
Looking for Alaska, John Green. I didn't like this book a whole lot, but I could see it making a pretty good teen movie like Some Kind of Wonderful or Pretty in Pink.
Miss Peregrine's Home for Peculiar Children, Ransom Riggs. Another one with a lot of visual imagery and some great humor that would be fun to watch.
The Eyre Affair, Jasper Fforde. I've actually talked about this one before.
The Catcher in the Rye, J. D. Salinger. It would be tricky to pull off, but I think if the director did internal monologue voiceovers, it might work.
American Gods, Neil Gaiman. This could be a sprawling sort of epic with the right cast and script.
The Woman in White, Wilkie Collins. If this has been made into a successful movie, then I haven't heard about it, but it would be a great gothic tale.
Wicked, Gregory Maguire. Why not? They brought it to Broadway. Would be fun to cast Wizard of Oz lookalikes where possible, too.
King Lear, William Shakespeare. Seriously, why hasn't one of Shakespeare's greatest plays been made into a huge movie. They've done just about every other major play and even minor ones. I have seen filmed stage versions of this, and there's a good PBS one, but not exactly major motion pictures.
What about you? What books do you think should be made into movies?