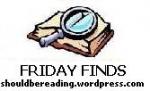 I found a few interesting looking books this week. Also, I have been listening to lots of great new-to-me music on Spotify. I am quickly becoming a huge Spotify fan.
First the nonfiction:
I think the approach the Keats book is taking is an interesting one. I don't recall much being published about Keats's brother who emigrated to America. I don't know what it is, but when the weather cools, I just become sort of obsessed with tea, and there are several tea-related books on my to-read list. Doesn't that book about the history of books look good?
Some fiction:
Curiosity by Joan Thomas is about Mary Anning, who was a hero of mine when I was a girl: I loved fossils. You might also be interested in Tracy Chevalier's book about Mary Anning, Remarkable Creatures (review). I won When She Woke by Hillary Jordan from a Goodreads giveaway. It looks intriguing, and I've seen some reviews. I think I know what to expect: this one has an agenda. I so enjoyed Susanna Kearsley's The Winter Sea (review), so I'm looking forward to The Rose Garden.
One more book:
Here is what interested me in María Deuñas's The Time in Between—this review by Book Him Danno on Goodreads:
"I am going to be honest. I said I would read this book because I think I need to read more women authors and more foreign writers, just to get out of my comfort zone. But when I finally got the book in my hands and read the synopsis I was scared because it was hitting a lot of things I tend to avoid. What will I have in common with a pre WWII seamstress as she deals with love and intrigue in Southern Europe. A dressmaker for goodness sake! But being the dutiful guy that I am I took it to work with me to read on break, to at least make a start. That was a mistake, a big mistake, because
BLOODY HELL THIS BOOK ROCKED!!"
I'm sold.
I want to try to share more music finds on this blog. I try to stay on top of music, but I can be pretty slow sometimes. Spotify is great for helping me discover music because I am not locked into owning a music file I don't want. A colleague told me a long time ago I needed to check out Mumford & Sons because I'd love them. Finally did. She was right. Not a bad song on Sigh No More.
So, did you find any good books? Or music?
Related posts: