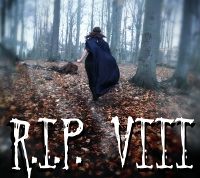 Yay! It's time once again for my favorite reading challenge! I have participated in the R.I.P. Challenge for several years. The idea is to choose your particular peril—details are in this post on Carl's site—and just have fun reading. Carl also provides a linkup for reviews.
You can read whatever you like as long it fits your definition of creepy, spooky, gothic, scary, etc. The challenge runs from September 1 to October 31. I am a little late in starting it this year. I am not really sure what I'm going to read, but here are some choices:
The Map of Time: A Novel Little, Big
Dracula in Love
If you have read any of these books, let me know what you thought of it/them. I am trying to make up my mind.
Related posts: