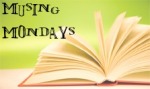 It's Monday! That means it's time for another Monday Musing. This week's question is Do you judge a book by its cover?
All. The. Time. I know the adage well, but the truth is that publishers spend a lot of money paying people to design book covers. You know who I think does a consistently good job? Source Books. Just take a look at some of their covers. Sometimes judging a book by its cover has led me astray. Check out this gorgeous cover for Blackbird House:
And yet I didn't care for the book.
I think it's human nature to check out the package and be attracted to it before we get to know the contents. We do that with potential mates as well as books, so judging a book by its cover is nothing new.
Some covers I just love? The Ruben Toledo drawings for Penguin classics. My favorites are Jane Eyre:
and The Scarlet Letter:
But I love Wuthering Heights, too:
Love it or hate it, you can't deny the cover of Twilight has been influential:
This is probably one of the most iconic covers of all time, and it has such an interesting background, too.
Scribner has a reissue edition, which is pretty, by the way, but not as iconic as the Cugat original.
Here are some books I've read, bought, or received recently that I think have pretty covers:
Related posts: