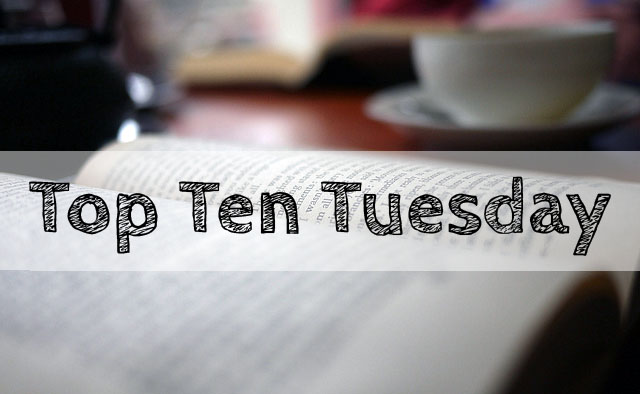 This week's Top Ten Tuesday topic is top ten books that feature travel in some way. OK, wide open, so here is my list.
So many great books feature quests or voyages. These are my favorites. You could argue that all the Harry Potter books feature travel, but the trio travels the most in Harry Potter and the Deathly Hallows, which features not just the very long camping trip, but the end of Harry's journey and even a trip to the other side of the veil.
The Hobbit; or, There and Back Again features Bilbo's famous quest to the Lonely Mountain with 13 dwarves and sometimes Gandalf. It's a classic quest and an excellent hero's journey. In some ways, it is more of a straight hero's journey and a tighter, finer story than The Lord of the Rings, which is also quite an amazing quest in which Middle Earth is saved, at least for the likes of men and possibly dwarves and hobbits, but not so much elves, especially not Galadriel and Elrond.
Ishmael says at the beginning of Moby Dick that he decided to stop teaching school and sign on a whaling ship in order to "see the watery part of the world." He saw a lot more than he bargained for, but you can't deny it was a heck of a trip.
In Diana Gabaldon's Outlander series, Claire Randall travels back in time when she walks through a stone circle at Beltaine, and she finds herself over 200 years in the past. Trips don't get much farther than that.
Like Gabaldon's Claire, Jennifer Donnelly's Andi Alpers finds herself about 200 years in the past during the French Revolution, but she also figures out a way to move on from a terrible loss in her past in Revolution.
The Odyssey is the quintessential travel book. The whole book is about the worst trip home ever. On top of that, it's a rollicking adventure that has stood the test of time. Few books can match it.
I absolutely love Sharyn McCrumb's novel The Songcatcher, and my favorite part concerned Malcolm McCourry, who was kidnapped and brought to America from Scotland, bringing a snatch of an old song along with him on the voyage, but the real voyage in this novel is the trip that the song takes through the generations, remembered by Malcolm's descendants and passed down through time.
The Adventures of Huckleberry Finn is yet another classic travel book, as the book follows Huck and Jim down the Mississippi. We can see how far Huck has come in his other voyage when he decides to tear up the letter revealing Jim's location and says, "All right, then, I'll go to hell." Reading that line always gives me the shakes.
Sir Gawain promised he would seek out the Green Knight in the Green Chapel, and he is a knight of his word. If you are looking for reasons why Gawain is better than Lancelot, you can't do better than the excellent Sir Gawain and the Green Knight. Plus, we have no idea who wrote it. It's a complete mystery. He goes on a quest and finds himself in great peril, but he is true, and he returns home to Arthur's court a wiser man.
Related posts: