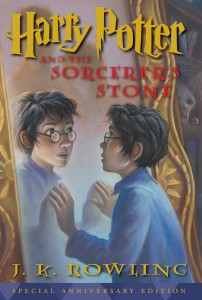 I like to have audio books going when I'm doing mindless housework or making soap (though I haven't made soap in a while). I don't know why, but I decided to listen to the Harry Potter books again, even though I just re-read them (the British versions) last year. I could, I guess, space out my re-reads a bit. But one reason I did it is there is nothing like Harry Potter to perk me up. I was feeling just about as bad as I have ever felt when I discovered the books for the first time. I was actually reading the first one, I think, close to when 9/11 happened, if not during that time. I know I read it before that first movie came out that November. It seemed like when I was feeling my worst, there were these books, and they really did help me escape for a little while and feel a lot less bad about everything. I will always be grateful to them for that.
In this re-listen, a few interesting things popped into my head. First, it still irks me that Scholastic re-titled the book for Americans. The Sorcerer's Stone is not a thing. The Philosopher's Stone is a known alchemical object. Any reader who doesn't know what something is can look it up. And many of them will. I would have (and did) as a child. Second, this book might be the only one of the series that doesn't treat on the anti-Muggle and Muggle-born prejudice storyline. In fact, both Hagrid and McGonagall say things that one might consider anti-Muggle. McGonagall says "they're not completely stupid," when telling Dumbledore the Muggles are noticing the celebration of Voldemort's downfall. Hagrid tells Harry that he was unfortunate to grow up in a family of "the biggest Muggles" around. There could be a couple of reason for this oversight:
J. K. Rowling didn't know she'd be able to publish a whole series. I have had this argument with people before because she claims she had the whole series planned out (of course, she also changed and tweaked as she went along). I don't care if she did. She can't have known she'd be able to write seven books (and all the other things that came later, either). She had to tie the book up in a bow, and establishing this dark story arc that couldn't be resolved in one book might have been a risk.
There might not have been room for it. Her editors did cut some things. She has alluded to this fact. She has said in interviews they wanted to cut the troll scene, and she put her foot down on that one as necessary for establishing the trio's friendship. Not to mention their bravery and ability to work together to fight in a tight spot.
She hadn't thought of it. See first bullet point, but I'm just saying it's possible.
She had a lot of world-building and character-establishing to do and couldn't fit it in gracefully when so much about the Wizarding World needed to be established first.
If you look at books 2-7, you see a very clear story arc about prejudice. I would argue that the series transcends a fun children's series and becomes something more with that arc, but the first book still has some of my favorite scenes in the series:
Harry's release of the boa constrictor from Brazil.
Harry's first look at the Wizarding World when he steps through the brick wall doorway in the back of the Leaky Cauldron and sees Diagon Alley for the first time.
Harry's sorting and the start-of-term feast (does anyone write food like Rowling?).
Harry's first class with Snape.
The Halloween Feast and the troll.
The Mirror of Erised.
It's funny that even after reading this book probably more than two dozen times, I still find things to enjoy and notice things I forgot or perhaps hadn't noticed before.