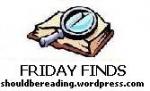 I'm on my way to my parents' house to see Harry Potter and the Deathly Hallows Part 2. Everyone in my family is an HP fan. You can look for my review fangirly squee tomorrow. Meanwhile, I found a few good books this week to put in my TBR pile.
I'm not sure which of these books I'll actually read or when, but I saved them for future reference in my to-read shelf on Goodreads. I wish I weren't so bad at documenting how I heard about these books. If it was from you, thank you, and I'm sorry! I do remember where I found a few of them.
I'm the last book blogger to put a Donna Tartt on my list, but I found [amazon_link id="1400031702″ target="_blank" ]The Secret History[/amazon_link]—academics, secrets—I'm there.
I can't decide if [amazon_link id="0670022691″ target="_blank" ]Rules of Civility[/amazon_link] by Amor Towles is something I would like or not, but it has an extremely high rating on Goodreads, even after nearly a couple of dozen reviews. I think I found it via Shelf Awareness.
I think I came across [amazon_link id="0500286965″ target="_blank" ]The True History of Chocolate[/amazon_link] by Michael D. Coe and Sophie D. Coe on PaperBackSwap. I think it came up in a list of books similar to a different book I was trying to put on my wish list. But doesn't it look good? I think I found [amazon_link id="1594482691″ target="_blank" ]The Ghost Map: The Story of London's Most Terrifying Epidemic—and How It Changed Science, Cities, and the Modern World[/amazon_link] by Steven Johnson the same way.
[amazon_link id="076793122X" target="_blank" ]Dracula in Love[/amazon_link] by Karen Essex looks like a good book to store away for the R.I.P. Challenge. I ran across it when I read Essex's recent post on the Writer Unboxed.
I just can't remember where I found [amazon_link id="006176910X" target="_blank" ]A Thousand Times More Fair: What Shakespeare's Plays Teach Us About Justice[/amazon_link] by Kenji Yoshino. I love books about Shakespeare and culture.
[amazon_image id="1400031702″ link="true" target="_blank" size="medium" ]The Secret History[/amazon_image] [amazon_image id="0670022691″ link="true" target="_blank" size="medium" ]Rules of Civility: A Novel[/amazon_image] [amazon_image id="0500286965″ link="true" target="_blank" size="medium" ]The True History of Chocolate (Second Edition)[/amazon_image]
[amazon_image id="1594482691″ link="true" target="_blank" size="medium" ]The Ghost Map: The Story of London's Most Terrifying Epidemic–and How It Changed Science, Cities, and the Modern World[/amazon_image] [amazon_image id="076793122X" link="true" target="_blank" size="medium" ]Dracula in Love[/amazon_image] [amazon_image id="006176910X" link="true" target="_blank" size="medium" ]A Thousand Times More Fair: What Shakespeare's Plays Teach Us About Justice[/amazon_image]