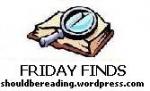 This week has been a pretty good week for book scouting. First, via Carl, Miss Peregrine's Home for Peculiar Children by Ransom Riggs. It looks like a delightfully creepy gothic novel, and I can't wait to read it.
[amazon_link id="1590173759″ target="_blank" ]When The World Spoke French[/amazon_link] by Marc Fumaroli was mentioned in this week's History mailer from Any New Books. It's a history of influence of France in the time period between the death of Louis XIV and the French Revolution.
Just today, I discovered [amazon_link id="0345506014″ target="_blank" ]Summer in the South[/amazon_link] by Cathy Holton via Darlene from Peeking Between the Pages. I love Southern gothic. Doesn't it look good?
[amazon_image id="1590173759″ link="true" target="_blank" size="medium" ]When The World Spoke French (New York Review Books Classics)[/amazon_image] [amazon_image id="0345506014″ link="true" target="_blank" size="medium" ]Summer in the South: A Novel[/amazon_image]