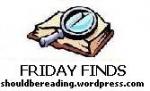 I haven't done Friday Finds in a while, seems like. I think it's just been busy. I hesitate to discuss all the books I've added to my TBR pile since the last Friday Finds update, so I'll just pick the ones I'm most interested in digging into, starting with the one I'm currently reading, which is a great RIP read.
[amazon_image id="0441020674″ link="true" target="_blank" size="medium" class="alignleft"]Those Across the River[/amazon_image]Haunted by memories of the Great War, failed academic Frank Nichols and his wife, Eudora, have arrived in the sleepy Georgia town of Whitbrow, where Frank hopes to write a history of his family's old estate—the Savoyard Plantation—and the horrors that occurred there. At first, the quaint, rural ways of their new neighbors seem to be everything they wanted. But under the facade of summer socials and small-town charm, there is an unspoken dread that the townsfolk have lived with for generations. A presence that demands sacrifice.
Yep, sounds like Georgia to me. All kidding aside, it's good so far, and I have heard it's pretty creepy. Shelf Awareness devoted a whole newsletter to it, which is what caused me to add it to my list anyway.
[amazon_image id="0385534639″ link="true" target="_blank" size="medium" class="alignright"]The Night Circus[/amazon_image]The circus arrives without warning. No announcements precede it. It is simply there, when yesterday it was not. Within the black-and-white striped canvas tents is an utterly unique experience full of breathtaking amazements. It is called Le Cirque des Rêves , and it is only open at night. But behind the scenes, a fierce competition is underway—a duel between two young magicians, Celia and Marco, who have been trained since childhood expressly for this purpose by their mercurial instructors. Unbeknownst to them, this is a game in which only one can be left standing, and the circus is but the stage for a remarkable battle of imagination and will. Despite themselves, however, Celia and Marco tumble headfirst into love—a deep, magical love that makes the lights flicker and the room grow warm whenever they so much as brush hands. True love or not, the game must play out, and the fates of everyone involved, from the cast of extraordinary circus per­formers to the patrons, hang in the balance, suspended as precariously as the daring acrobats overhead. Written in rich, seductive prose, this spell-casting novel is a feast for the senses and the heart.
That novel is getting an insane buzz among booksellers and bloggers both, but it looks good. Starbucks just picked it as its first Digital Book Pick of the Week.
[amazon_image id="0312648367″ link="true" target="_blank" size="medium" class="alignleft"]Garden of Secrets Past: An English Garden Mystery (English Garden Mysteries)[/amazon_image]In the garden of a country estate, an ancient monument holds a cryptic secret. Chiseled on it is a coded inscription that has baffled the world's cleverest minds for two centuries. When a child playing near the monument stumbles upon the dead body of a man, another mystery is revealed: in his pocket is a scrap of paper bearing a sequence of letters. The police suspect that it may be part of a coded message but their investigation leads nowhere. The case at a standstill, Lawrence Kingston, retired professor of botany, is hired to conduct an independent inquiry. Soon, Kingston finds himself swept along in a dangerous undertow of a centuries-old family feud, a suspicious poisoning and veiled threats, leading him to fear for his own life. To solve the secret of the past and crimes of the present, he must decipher a complex code hidden in the walls of an old manor house. But to do so, he must first delve into the minds of three eminent 18th century Englishmen to fathom what part they played in the age-old mystery. As his search for the truth narrow, his worst fears materialize when he becomes the next target.
English gardens, a Georgian mystery, a family feud, and a secret code! Sounds good, no?
These three nonfiction selections all look great:
[amazon_image id="0230109411″ link="true" target="_blank" size="medium" ]The Shakespeare Thefts: In Search of the First Folios[/amazon_image] [amazon_image id="1592406521″ link="true" target="_blank" size="medium" ]Just My Type: A Book About Fonts[/amazon_image] [amazon_image id="0802717446″ link="true" target="_blank" size="medium" ]The Sugar Barons: Family, Corruption, Empire, and War in the West Indies[/amazon_image]
Some of these I am kind of on the fence about whether to read:
[amazon_image id="B0046LUCSY" link="true" target="_blank" size="medium" ]Mortal Love: A Novel[/amazon_image] [amazon_image id="1442422246″ link="true" target="_blank" size="medium" ]Fury[/amazon_image] [amazon_image id="B00509COAK" link="true" target="_blank" size="medium" ]The Magicians: A Novel[/amazon_image]
The cover of that first one looks familiar… maybe because I used it for my own book. At any rate, the Pre-Raphaelite Sisterhood is reading it in October, but reviews are mixed. I'm still deciding about whether to read [amazon_link id="B0046LUCSY" target="_blank" ]Mortal Love[/amazon_link]. I think I'm just frightened [amazon_link id="1442422246″ target="_blank" ]Fury[/amazon_link] will be too much like the other paranormal YA that is becoming ubiquitous. The reviews for [amazon_link id="B00509COAK" target="_blank" ]The Magicians[/amazon_link] have been all over the place. I read a Lev Grossman novel a few years ago, and I really didn't like it. Anyone able to push me over the fence on any of these three?
I'll save my other finds for next week. L'Shanah Tovah and best wishes for a sweet new year to my friends and colleagues.