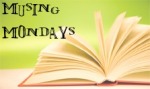 This week's musing asks…
Below is a link to an NPR discussion about the simple fact that there's no way you can read, see and experience all the things that are available to be experienced. The two methods for dealing with it are culling (i.e., cutting out certain genres that don't interest you, etc.) or surrender (i.e., just making peace with the facts and enjoying what you can in the time that you have).

http://www.npr.org/2011/06/27/137451477/you-cant-possibly-read-it-all-so-stop-trying

So, do you cull, or do you surrender? Or do you do both?
I think I do a bit of both. I am very selective about which books I will read in certain genres. For instance, my nonfiction reading is almost exclusively limited to history, education, and literature, although if a book looks interesting and doesn't fall in those narrow confines, I will read it. I am fairly selective about fantasy and sci-fi. I don't read a lot of it, but I am careful about what I do choose to read in those genres. My favorite genre is historical fiction, so I tend to broaden my scope and will often read historical fiction, even if I don't think I'm interested in the subject. I have too often discovered that I can become interested if the book grabs me.
I set a goal to read 50 books this year. I keep a to-read list. I can feel the pressure to read as much as I can before I can't read anymore, but I have also accepted that I just won't be able to get to everything that is good and worth reading. So I also have made peace with the idea that the article calls "surrender." Life is too short to read bad books, but I am determined to enjoy the ones I have time to get to.