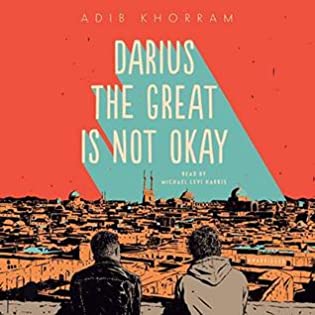 Darius the Great Is Not Okay
by
Adib Khorram
Published by
Listening Library
on August 28, 2018
Genres:
Young Adult
Pages:
8
Format:
Audio
,
Audiobook
Source:
Library
Buy on Amazon
Goodreads

Darius Kellner doesn't make friends easily. He gave up on the Boy Scouts years ago—to his father's lasting disappointment—and after being diagnosed with depression, he quit the neighborhood soccer club, too. As the only Persian boy at his Portland high school, he's an easy target for Trent Bolger and his Soulless Minions of Orthodoxy.

Then Darius goes to Iran for spring break (and despite what the Soulless Minions of Orthodoxy say, it's not to join ISIS). He's visiting his mother's hometown, Yazd, to meet his family—and his ailing grandfather—for the first time. But Darius speaks better Klingon than Farsi, and he knows the Silmarillion better than the Shahnameh. Even surrounded by Persians, he can't fit in.

Not until he meets Sohrab Rezaei, his grandparents' Bahá'í neighbor. Darius is drawn to the lonely boy who helps water his grandfather's fig trees, and the two strike up a tentative friendship, filling their days with pick up soccer, trips to the Jameh Mosque, and walks through Dowlatabad Garden.

But things in Iran are far from perfect. Darius's grandfather's health is failing. His dad is more distant than ever. And when Sohrab faces family issues of his own, Darius is powerless to help—or to hold their hard-won friendship together.

But he still has to try.
My school is considering this book as an all-school summer read, and as an avid reader and English department chair, I agreed to check it out to see if it would be a good candidate. I thoroughly enjoyed listening to this book. Darius is a great character, and the book's setting in Yazd, Iran offers a counterpoint to other texts set in the country. Khorram depicts the country's beauty and heritage, and Darius quickly falls in love with it.
I loved Darius's interest in tea and geeky pursuits such as The Lord of the Rings and Star Trek. I especially approve of his fandom for Star Trek: The Next Generation. That was my show, too. I also liked the way Khorram handled Darius's navigation of questioning his sexuality and getting to know grandparents he has only ever seen on Skype.
I teared up when Darius and his father finally have the talk that has been brewing for most of the book. I definitely want to read the sequel, especially since the audiobook version of Darius the Great Deserves Better is also narrated by Michael Levi Harris, who did a superb job with Darius the Great is Not Okay.