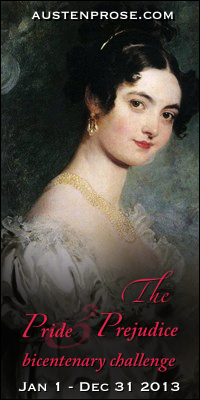 Jane Austen's beloved novel Pride and Prejudice turns 200 in January. I already had plans to begin re-reading the novel on the 200th anniversary of its publication, January 28, 2013. I should have known Austenprose would have a massive celebration, just as they did for Sense and Sensibility. Even though I promised myself I'd limit challenges this year, I decided I couldn't pass this one up.
The idea behind the challenge is to read or revisit Pride and Prejudice, view the film adaptions, and read the sequels. I haven't read too many sequels, but I am willing to give it a try. To that end, I plan to participate only at the Neophyte level of 1-4 selections. I will be reading Pride and Prejudice, Death Comes to Pemberley by P. D. James, Darcy and Fitzwilliam by Karen Wasylowski, and Celebrating Pride and Prejudice: 200 Years of Jane Austen's Masterpiece by Susannah Fullerton. If the spirit moves me, I may do a bit more, but that is what I will commit to  the moment.
I'm very excited about celebrating along with Austenprose this year.