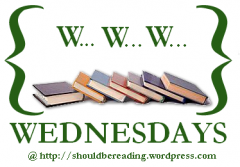 To play along, just answer the following three (3) questions…
• What are you currently reading?
• What did you recently finish reading?
• What do you think you'll read next?
I am currently reading [amazon_link id="B004R1Q9PI" target="_blank" ]The Secret Diary of a Princess[/amazon_link] by Melanie Clegg and [amazon_link id="1594202885″ target="_blank" ]A Jane Austen Education: How Six Novels Taught Me About Love, Friendship, and the Things That Really Matter[/amazon_link] by William Deresiewicz. I am thoroughly enjoying Melanie Clegg's book. Not far enough into the other yet to say, but I love Jane Austen.
I recently finished [amazon_link id="039332902X" target="_blank" ]The Story of Britain: From the Romans to the Present: A Narrative History[/amazon_link] by Rebecca Fraser. I was reading it for about six months! You can read my review of it here.
I think after I finish my next book, I might read [amazon_link id="0743482832″ target="_blank" ]The Tempest[/amazon_link] by William Shakespeare so that I can more thoroughly enjoy [amazon_link id="B0048EL84Q" target="_blank" ]The Dream of Perpetual Motion[/amazon_link] by Dexter Palmer. I am looking forward to trying my first steampunk novel.