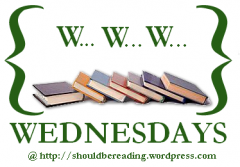 To play along, just answer the following three (3) questions…
• What are you currently reading?
• What did you recently finish reading?
• What do you think you'll read next?
I am currently reading [amazon_link id="1401302025″ target="_blank" ]The Geeks Shall Inherit the Earth: Popularity, Quirk Theory, and Why Outsiders Thrive After High School[/amazon_link] by Alexandra Robbins. It's a really good read, and I think anyone who is a teacher or parent should probably read it for the insight it gives into how painful the teen years can be and what children that age are facing.
I know I said that I would read [amazon_link id="0743482832″ target="_blank" ]The Tempest[/amazon_link] next, but I am just not feeling up to it yet. I guess I want lighter fare as the summer begins. I will probably start [amazon_link id="0345521307″ target="_blank" ]The Paris Wife[/amazon_link] by Paula McLain next—perhaps not tonight, but tomorrow. It looks pretty good. It's told from the point of view of Hadley Hemingway, Ernest Hemingway's first wife.
I recently finished [amazon_link id="1439191697″ target="_blank" ]The Kitchen Daughter[/amazon_link] by Jael McHenry (review). Wonderful book! Highly recommended. I also finished [amazon_link id="1594202885″ target="_blank" ]A Jane Austen Education: How Six Novels Taught Me About Love, Friendship, and the Things That Really Matter[/amazon_link] by William Deresiewicz (review) since last week. Summer means more time to read!
A side note: I am really enjoying seeing my map fill up for the Where Are You Reading Challenge. I am beginning to have a little bit more diversity in terms of setting than I had a few months ago. You can view my map in progress (you can click on the map and drag it around):
View 2011 Where Are You Reading Challenge in a larger map