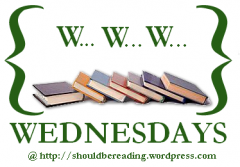 To play along, just answer the following three (3) questions…
• What are you currently reading?
• What did you recently finish reading?
• What do you think you'll read next?
I am currently reading [amazon_link id="1594202885″ target="_blank" ]A Jane Austen Education: How Six Novels Taught Me About Love, Friendship, and the Things That Really Matter[/amazon_link] by William Deresiewicz. He has divided the chapters into life lessons he learned from each of the six major novels by novel title and lesson, and I am currently in the chapter about [amazon_link id="193659451X" target="_blank" ]Persuasion[/amazon_link], which might be my favorite Jane Austen book. I really love [amazon_link id="1936594293″ target="_blank" ]Pride And Prejudice[/amazon_link] and [amazon_link id="0141040378″ target="_blank" ]Sense and Sensibility[/amazon_link]. I'm not sure I like the author all that much. The book is part memoir, part literary criticism, and his descriptions of himself are quite candid.
I recently finished [amazon_link id="B004R1Q9PI" target="_blank" ]The Secret Diary of a Princess[/amazon_link] by Melanie Clegg. It is a novel about Marie Antoinette's later childhood leading up to her marriage with the future Louis XVI—an interesting peek into the Viennese court.
I think the next thing I will read will be [amazon_link id="1439191697″ target="_blank" ]The Kitchen Daughter[/amazon_link] by Jael McHenry (my sidebar says I'm already reading it, but I haven't really started it yet) and perhaps [amazon_link id="0743482832″ target="_blank" ]The Tempest[/amazon_link]. I do need to finally read [amazon_link id="B0048EL84Q" target="_blank" ]The Dream of Perpetual Motion[/amazon_link] by Dexter Palmer.