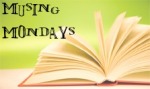 This week's musing asks…
Where is your favorite place to read?
I mostly read in bed. There isn't really another good place to read in my house. I enjoy reading in the bath, but I won't take my [amazon_link id="B002FQJT3Q" target="_blank" ]Kindle[/amazon_link] in the tub, so unless it's a paperback or a magazine, I read it in bed.
I really enjoyed reading outside when I was in college. UGA, where I went to undergrad, has a beautiful campus.
I couldn't find a larger image, but this fountain in particular was a favorite spot. You might be able to just make out the black wrought iron benches. I enjoyed sitting there while the fountain burbled and reading whatever I was reading. In fact, the girl in this picture could have been me about 20 years ago.
Image © Nancy Evelyn