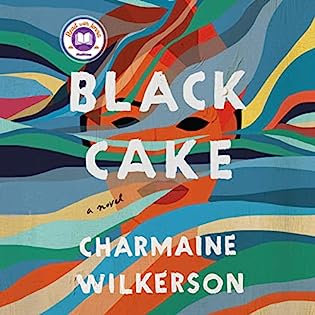 Black Cake
by
Charmaine Wilkerson
Published by
Random House Audio
on February 1, 2022
Genres:
Contemporary Fiction
,
Historical Fiction
Format:
Audio
,
Audiobook
Source:
Library
Buy on Amazon
Goodreads

We can't choose what we inherit. But can we choose who we become?In present-day California, Eleanor Bennett's death leaves behind a puzzling inheritance for her two children, Byron and Benny: a black cake, made from a family recipe with a long history, and a voice recording. In her message, Eleanor shares a tumultuous story about a headstrong young swimmer who escapes her island home under suspicion of murder. The heartbreaking tale Eleanor unfolds, the secrets she still holds back, and the mystery of a long-lost child challenge everything the siblings thought they knew about their lineage and themselves.

Can Byron and Benny reclaim their once-close relationship, piece together Eleanor's true history, and fulfill her final request to "share the black cake when the time is right"? Will their mother's revelations bring them back together or leave them feeling more lost than ever?

Charmaine Wilkerson's debut novel is a story of how the inheritance of betrayals, secrets, memories, and even names can shape relationships and history. Deeply evocative and beautifully written, Black Cake is an extraordinary journey through the life of a family changed forever by the choices of its matriarch.
I enjoyed this book quite a lot, but part of the reason it earned 4.5 stars for me was the excellent narration which added interest. Had I read the novel rather than listened to it, I might have settled it at 3.5-4 stars. At times I felt that the novel had a bit too much going on. However, it was a thoroughly enjoyable read, and I would recommend the book to others.
One of my favorite aspects of the book was the importance of food in storytelling and history. The New York Times shared this black cake recipe if you'd like to try it after reading the book. I could see it being a fun refreshment for a book club discussion of the novel. Some of the recipe's reviews offer helpful tips.