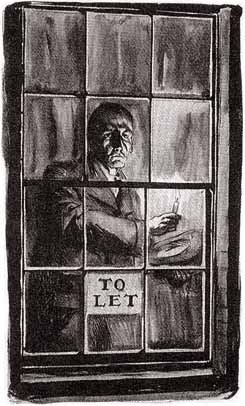 This week's story in the Chronological Sherlock Holmes Challenge is "The Adventure of the Red Circle," which is one of many stories that seems to follow a similar patter for Doyle: a mysterious "foreigner" shows up in London bringing intrigue from their country of origin with them, and Holmes must get to the bottom of it. In the case of this mystery, Holmes is initially uninterested, but he is moved to investigate by the pleas of a landlady, Mrs. Warren, who is increasingly suspicious of her new boarder. In spite of himself, Holmes finds himself interested Mrs. Warren's story and agrees to help.
Holmes and Watson discover several suspicious anomalies as they begin investigating the case: first, the lodger's notes are printed rather than written in cursive, and Holmes can somehow tell from the cigarette butts the lodger leaves behind that he does not have a mustache, while Mrs. Warren insisted he did have one. Holmes discovers that the landlady has no contact with the lodger aside from these written requests and a ringing bell for meals, which she leaves outside the lodger's rooms. Breakfast includes copy of the The Daily Gazette. Holmes begins searching the Daily Gazette's extracts for messages and believes he is onto something when he finds a series of messages signed "G."
This one didn't grab me, though I did enjoy the fact that Holmes didn't figure out all the pieces of the mystery before everyone else did. Gregson from Scotland Yard was a bit ahead of him on who the mysterious occupant boarding with Mrs. Warren is connected to, and he has a Pinkerton agent with him who is after the same man. I enjoyed Holmes's comment to Watson, who questions why he is taking on this case when there doesn't seem to be much substance to it: "Education never ends, Watson. It is a series of lessons with the greatest for the last." That said, it was long on exposition at the end when the mysterious lodger is revealed, and Holmes doesn't play much of a role in his deduction, except for a few wild leaps that don't make as much sense (to me) as his deductions typically do, as well as some substantial lack of resolution in the end. If you want to know what the Red Circle is all about, you'll be disappointed. The villain is easily dispatched, given he is such a threat, and the man who obtained the lodgings from Mrs. Warren disappears, his fate unknown, though Doyle alludes to an escape.
This story originally appeared in His Last Bow and was 44th in composition. Those who have ordered the stories chronologically must have their reasons for ordering this story number 6, but I'm not sure how they figured it out, as there did not seem to me to be any timeline indicators, but I admit I'm not a Sherlock Holmes scholar. I didn't notice any connections to the Sherlock TV series, possibly because as Sherlock Holmes stories go, this is not one of the more memorable.
Rating:





I read this story as part of the Chronological Sherlock Holmes Challenge. It is the sixth story in the chronology (time setting rather than composition). Next up is "The Beryl Coronet."