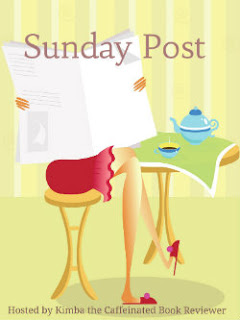 The latest scuttlebutt is that we might get a blizzard on Tuesday/Wednesday of this week. If so, that means a snow day might be in the forecast. Don't let anyone tell you teachers don't love a snow day as much as students. It's been cold this winter, but we haven't had too much snow.
This week I reviewed Kathleen Kent's novel The Wolves of Andover, renamed The Traitor's Wife when it was released in paperback. I was excited that Kathleen Kent favorited and retweeted the tweet I sent linking to my review. I did really enjoy her book. I can see why she was fascinated by the Carrier family. What a collection of characters.
I started reading Christopher Moore's novel The Serpent of Venice this week. Oh, I am loving this one. It is absolutely hysterical! Moore's sense of humor is a good match for me. I guess the best way to describe it would be if Monty Python acted out a mashup of "The Cask of Amontillado," Othello, and The Merchant of Venice. Here is just a taste of one of the parts that made me laugh out loud:
"Since the time we were first chosen, Lancelot, suffering has been the lot of our people, but still, we must take our lessons from the prophets. And what do we learn from the story of Moses confronting the pharaoh? When Moses did call down the ten plagues upon the Egyptians? What do we learn from this, young Lancelot?"

"As plagues go, frogs are not so bad?" I was raised in a nunnery. I know Testaments Old and New.

"No, what we learn is do not fuck with Moses!"
Okay, so it's a little sacrilegious.
Another thing I tried out this week is this recipe for chocolate chip cookies that I found via one of my friends who posted this link. I happen to love Pinterest, but I don't go crazy trying everything I see. However, when the author of that article commented that the cookies were seriously awesome, I thought, well, snowing outside, I have all the ingredients, a perfect day for making cookies. And man, they are seriously good cookies. P. S. I had seen that salad in a jar thing and started putting some of my produce in jars like that. It seriously lasts a lot longer before it goes bad. But yeah, I'm not trying the hair stuff. I am no good with hair. I need a hairstyle I can just brush. However, I might make that mug.
Finally, in other news, I participated in a soap-making challenge for the first time in a long time, and I learned a new swirling technique. I blogged about it here. I thought it might be fun to share the video I made of the process. If you have five minutes, check it out:
Here's a picture of the finished soap, if you are interested in that sort of thing:
What did you get up to this week?
The Sunday Post is a weekly meme hosted by Caffeinated Book Reviewer. It's a chance to share news, recap the past week on your blog, and showcase books and things we have received. See rules here: Sunday Post Meme.