I have been busy, busy. I am making soap to gear up for fall. When you're a soapmaker, you have to make the soap about four-six weeks in advance of the selling season because it needs that long to cure. I am doing a big arts and crafts fair on September 21, and I want have a good amount of stock.
School has started, at least for me. My students don't return until September 8. We have pre-planning, though, and I have taken on a new role as English department chair. The start of the year has already been great.
I have been re-reading the Harry Potter series with Maggie. I have read Harry Potter and the Half-Blood Prince and Harry Potter and the Deathly Hallows much less often than the other books in the series. Re-reading Harry Potter And The Order Of The Phoenix this last time made me think two things:
A lot folks don't like this one because Harry is so angry. Well, he was dealing with Voldemort's emotions influencing his own, and even if that were not the case, he has a right, after everything that's happened to him, to a bit of righteous anger. And he struggles through so much of that book.
Every teacher and administrator working in schools should read this book. It has interesting things to say about teaching, especially about what happens when the government, and especially government officials who know nothing about education, interfere in schools.
I'm really enjoying reading these books with Maggie. I think she's liking them as well.
I don't have a lot of extra time with all this craziness, but my wardrobe is really frightening. I mean, I never shop for myself because I hate, hate, hate shopping. I absolutely loathe it. I hate hunting for something I like, I hate continually taking off my clothes and trying on outfits only to find they fit weird or I don't like them, and I hate being in the store around people I don't know well and with whom I have to have conversations. I also hate having to decline offers of a store credit card, along with the attempts to convince me that I could be saving so much money if only I had one. As a result, my clothing situation was getting close to desperate. One of my friends posted a link to this personal shopping service called Stitch Fix, and I thought, "yeah right, like I can afford a personal shopping service."
Nevertheless, I visited the site, and I discovered that it was fairly reasonable. The styling fee is just $20, and the fee is applied to anything you buy. The personal stylist picks five items and sends them to you. You can set how often you receive packages. You fill out a comprehensive styling profile. I was impressed that Stitch Fix asked me for links to a Pinterest board where I pin clothes I like and my LinkedIn profile. I wouldn't have thought to do either one, but it looks like it was helpful because I received my first shipment, and I liked everything so much that I kept it.
I am posting pictures of myself without makeup and with messy hair, so don't look at my face, but check out what I received.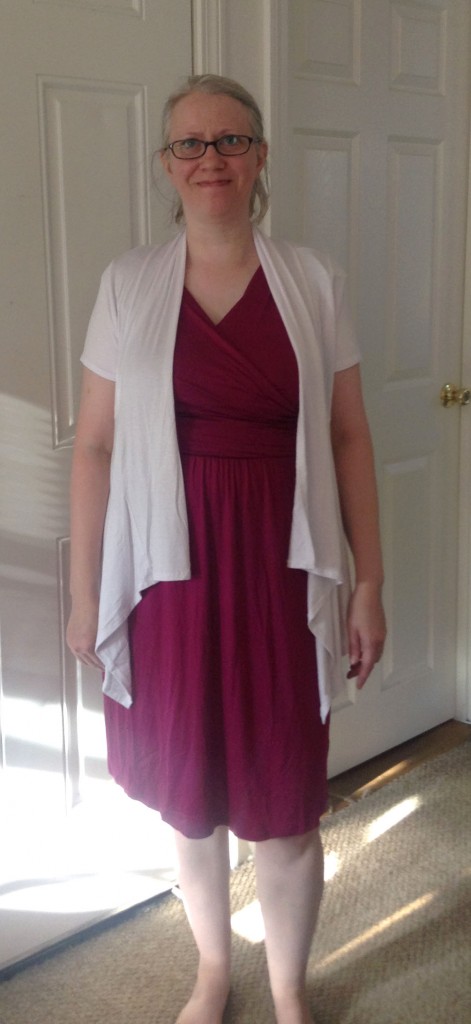 First, this plum wrap dress. I would have walked right by it if I had seen it in the store because I would never, ever have thought it would look good on me. The waist, however, is a little higher, so it actually covers up areas I might not want to show. It has capped sleeves, so I can easily add a long-sleeve sweater, tights, and boots, and I have a good winter/fall outfit, too. No, I do not have on tights; those are my really white legs.
Next up, skinny jeans. Another item I'd have walked right by if I had seen them in the store. Truly. And they fit me really well. They are actually comfortable. I really liked the print on this shirt. It has no sleeves, so I have to wear the little short-sleeved cardigan they sent, which, incidentally, I also probably wouldn't have picked out for myself. I have to admit it's perfect for pairing with all sorts of outfits, thought.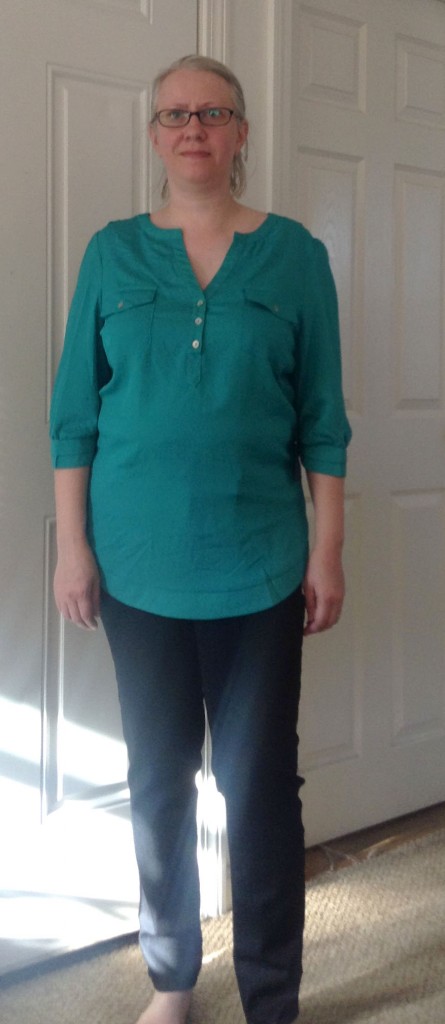 I really liked this green shirt. It fit me well, and it's versatile enough for work or casual dress. And it's not too tight around my hips.
I was really pleased and surprised at how much I liked everything once I tried it on, with the prices (I got everything for less than $200), and with the convenience. I really think this is going to solve some of my issues with my wardrobe. I am trying out clothes I might not have tried, and I don't have to go anywhere. And it costs about the same as I'd spend if I hauled my tuchus to the store. So I'm pretty happy. If you want to try it out, I have a referral code, and it would be awesome if you would use it when you sign up.