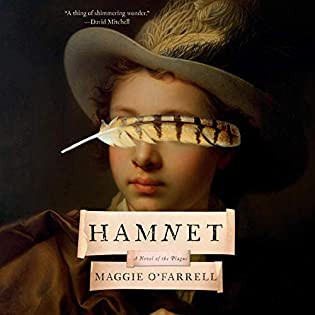 Hamnet
by
Maggie O'Farrell
Published by
Random House Audio
on July 21, 2020
Genres:
Historical Fiction
Format:
Audio
,
Audiobook
Source:
Audible
Buy on Amazon
Goodreads

Drawing on Maggie O'Farrell's long-term fascination with the little-known story behind Shakespeare's most enigmatic play, Hamnet is a luminous portrait of a marriage, at its heart the loss of a beloved child.

Warwickshire in the 1580s. Agnes is a woman as feared as she is sought after for her unusual gifts. She settles with her husband in Henley Street, Stratford, and has three children: a daughter, Susanna, and then twins, Hamnet and Judith. The boy, Hamnet, dies in 1596, aged eleven. Four years or so later, the husband writes a play called Hamlet.

Award-winning author Maggie O'Farrell's new novel breathes full-blooded life into the story of a loss usually consigned to literary footnotes and provides an unforgettable vindication of Agnes, a woman intriguingly absent from history.
Oh, this book. I just loved it. Recently, I shared in my review of Never Caught that the author missed an opportunity to weave historical fiction out of the facts we know about Ona Judge. Anne Hathaway Shakespeare is another woman we know very little about. She was pregnant when she married William Shakespeare (who was quite a bit younger than she was), she raised their children practically alone while he worked as an actor and playwright in London, and Shakespeare left her his second-best bed in his will. From these scraps of information, many scholars have concluded that their marriage was not a happy one. O'Farrell takes a different tactic and imagines a love match for the couple that is nearly destroyed by the death of their son and William Shakespeare's depression and lack of fulfillment.
O'Farrell chooses to call her Anne "Agnes," as her father referred to her in his will. Agnes is something of an herbalist (and maybe a witch). She's every bit as fascinating as Shakespeare (maybe more so, under O'Farrell's pen). The story alternates between Agnes and Hamnet as narrators, for the most part, with tidbits from other characters such as Susanna and Judith. The story also shifts in time, beginning with Hamnet looking for someone, anyone (but particularly Agnes) to help him—his twin sister Judith is sick.
The historical details ring true. As a bread baker and soap maker, I especially appreciated O'Farrell's references to Agnes's talents in both areas. Agnes also keeps bees and is something of a bee charmer. However, my absolute favorite historical detail was O'Farrell's chronicle of the journey of the flea that carried the bubonic plague to Stratford and, ultimately, to the Shakespeare household. It was utterly fascinating. As we are living in the midst of a pandemic right now, the details are also alarmingly present. How did the virus that infected my entire family with COVID-19 in January make its way to us? How does sickness travel like that? I think I appreciated O'Farrell's exploration of the way the plague traveled even more for having a personal connection to another form of plague.
I couldn't help but think of Virginia Woolf's A Room of One's Own when I read. In that book, Woolf imagines Shakespeare's equally talented sister who is unable to do the things her brother can do because she is a woman, and those doors are closed to her. What if Shakespeare's wife were even more talented than he? That is actually how I interpret Agnes's character. Yet she sacrifices so that he can realize his dreams and their children can be cared for. She's not different from talented women throughout history in this respect.
Ell Potter is a charming narrator. I'm glad the audiobook was read by a woman, as ultimately, I think this a woman's story. That's not to say men wouldn't enjoy it; quite the contrary, and maybe men should read it. Ron Charles has a great review of the book at The Washington Post. I definitely recommend this book to any fans of Shakespeare, though I caution you that he's relegated to the sidelines. This story is the story of his family.