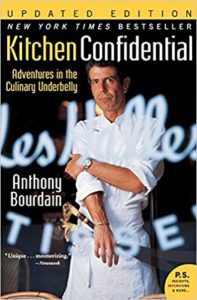 Kitchen Confidential: Adventures in the Culinary Underbelly
by
Anthony Bourdain
Published by
Ecco/Harper Perennial
on January 9, 2007
Genres:
Nonfiction
,
Memoir
,
Cooking
Pages:
312
Format:
Paperback
Buy on Amazon
Goodreads

A deliciously funny, delectably shocking banquet of wild-but-true tales of life in the culinary trade from Chef Anthony Bourdain, laying out his more than a quarter-century of drugs, sex, and haute cuisine—now with all-new, never-before-published material.

New York Chef Tony Bourdain gives away secrets of the trade in his wickedly funny, inspiring memoir/expose. Kitchen Confidential reveals what Bourdain calls "twenty-five years of sex, drugs, bad behavior and haute cuisine."
I've watched Anthony Bourdain on Parts Unknown. I've never seen an episode I didn't find interesting or educational, never mind entertaining, but I'm not a religious watcher, and I am not sure whether or not to call myself a fan. It was sad to hear about his death last year. I supposed that's what made me finally decide to read his infamous memoir, Kitchen Confidential. I liked the book, and parts of it were really great. It was a bit overlong for me, but if you ask me to point to what he could have cut out, I'm not sure how to answer. The misogyny of the typical 1970s or 1980s (even 1990s) kitchen was hard to read, and it's a major reason this book doesn't crack four stars for me. I don't get the sense that Anthony Bourdain himself was a terrible misogynist, but I don't get the sense either that he has always been exactly respectful of women, nor that he has been a good ally for women experiencing sexism in restaurant kitchens. He said as much in a Medium post, in which he takes ownership of the role he has played in perpetuating this cycle:
To the extent which my work in Kitchen Confidential celebrated or prolonged a culture that allowed the kind of grotesque behaviors we're hearing about all too frequently is something I think about daily, with real remorse.
He wrote that post in response to hearing allegations of Mario Batali's and Ken Friedman's sexual misconduct. Honestly, the kitchens he describes in the book sound more like pubescent locker rooms than anything else, though the afterword suggests that only a few years after the book's publication, much had changed in restaurant kitchens. I imagine the foodie revolution, if you want to call it that, contributed to these changes.
Bourdain has a strong writing voice, and at times it's entertaining, while at other times, it's pretty self-important and grating. My favorite parts of the book include the chapter in which Bourdain describes what you really need in order to cook like a chef, "How to Cook Like the Pros." The first chapter in which Bourdain travels to France with his parents and starts trying more adventurous foods for the first time, "Food is Good," serves as a great introduction to the book. His description of his first trip to Tokyo in "Mission to Tokyo," in which you can see the seeds for Parts Unknown being sewn, also stands out for its gorgeous descriptions of the food and the city. Bourdain has always struck me because he would literally try anything once, and it's clear this adventurous streak was born on that trip to France when he tried vichyssoise and oysters for the first time. Bourdain's portraits of some of the eccentrics with whom he's worked are somewhat entertaining, but also somewhat terrifying. Maybe one shouldn't think too hard about who is preparing one's food?
Anthony Bourdain was clearly an interesting person. I appreciated the fact that Bourdain was not a food snob. His appreciation for food and the people who prepare it is clear. He seems like a person who loved to learn and was always willing to open himself to new experiences. I wish he'd opened himself up a bit more, at least before he became a celebrity, to learning from and with women.