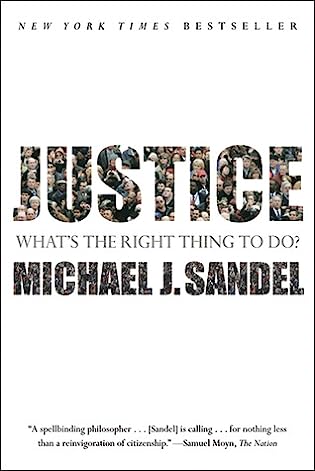 Justice: What's the Right Thing to Do?
by
Michael J. Sandel
Published by
Farrar Straus and Giroux
Genres:
Nonfiction
Pages:
308
Format:
Paperback
Source:
Library
Buy on Amazon
Goodreads

"For Michael Sandel, justice is not a spectator sport," The Nation's reviewer of Justice remarked. In his acclaimed book―based on his legendary Harvard course―Sandel offers a rare education in thinking through the complicated issues and controversies we face in public life today. It has emerged as a most lucid and engaging guide for those who yearn for a more robust and thoughtful public discourse. "In terms we can all understand," wrote Jonathan Rauch in The New York Times, Justice "confronts us with the concepts that lurk . . . beneath our conflicts."

Affirmative action, same-sex marriage, physician-assisted suicide, abortion, national service, the moral limits of markets―Sandel relates the big questions of political philosophy to the most vexing issues of the day, and shows how a surer grasp of philosophy can help us make sense of politics, morality, and our own convictions as well.

Justice is lively, thought-provoking, and wise―an essential new addition to the small shelf of books that speak convincingly to the hard questions of our civic life.
I co-teach a course on Social Justice in Literature and History, and my teaching partner and I have used parts of Sandel's philosophy as a framework for the course for the last three years; however, I had not yet read the entirety of Sandel's book until now. Sandel breaks down complicated topics remarkably well, as you can see in this book and the lectures available online. He injects occasional humor into the book, but there's no mistaking the book's seriousness of purpose. It makes an excellent companion to Michael Schur's How to Be Perfect. In fact, I've wondered several times if Michael Sandel's book inspired Schur. There is a little more humor in Schur's book, which readers might expect coming from a comedy author, and Schur deals with different philosophical issues (such as what do you do with the art of horrible people?). However, the books undeniably overlap in many respects.
An important note: Sandel's lectures are fun to watch and retread a lot of the ground covered in the book. Some of the book comes verbatim from his lecture notes. However, audience participation makes the lectures entertaining to watch, and the course also comes with suggested readings. I highly recommend checking it out. It's rather remarkable that anyone with an internet connection can take a popular Harvard course for free.