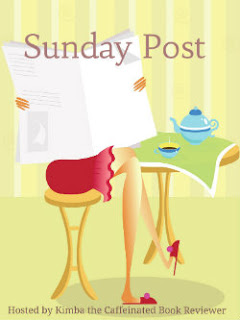 What has been happening this week? It's been crazy busy. I haven't had a ton of time to read, so I sat down and read most of today (with the exception of doing a little bit of work and washing the dishes). I have been spending most of the day wandering the moors, reading The Annotated Wuthering Heights. What a great addition to my library. I am truly enjoying it. Each time I read Wuthering Heights, I notice something I didn't pick up on last time, and this time, it's how horrible Nelly Dean is. I mean, I have often thought of her as mostly a reliable narrator, and because of her, I have really disliked Catherine. Heathcliff is just plain hard to like, no matter what. As soon as you start feeling sympathy for him, he goes off and kills lapwings for no reason or hangs a dog. Perhaps because I'm reading an annotated version, I am noticing so many more things than I ever have before. All the birds, for one thing; I'm sure I noticed that before, but even though the annotations don't discuss the birds in a great amount of detail, I think my antennae are up, so to speak, and I'm noticing the symbolism more than I usually do. And there are birds just everywhere in this book. Another thing I am seeing are the close connections to the Romantic poets. The annotations help there, and I am really pleased I chose to read this one for the Literary Movement Reading Challenge. Hope I can finish it in time! Even if I don't, I definitely want to finish reading this lovely annotated version. I realize a lot of people hate this book, but I think if you peel it apart and and see what makes it work, it is genius. I am especially enjoying the nuances I am noticing in Nelly's character this time around.
I finished reading Pleasantville by Attica Locke and wrote a review for the TLC Book Tour this week as well. A good read. I am also still working away on Katherine Howe's Conversion on audio. The reader for that one is really good. I recommended it to a bunch of my students this week when I saw it was one of their choices for a summer read.
This week's Top Ten Tuesday topic was top ten favorite authors of all time. You know, I am actually liking the idea of saving these for my Sunday Post instead of doing them on Tuesday. I just have less time to write during the work week. To qualify as a favorite author, I decided that I needed to love multiple books by the same author. So I didn't count authors who have only written one novel. I also didn't count authors if I had read only one of their works (even if I loved it). So here is my list:
William Shakespeare
Jane Austen
J. K. Rowling
J. R. R. Tolkien
Diana Gabaldon
Ernest Hemingway
Sharyn McCrumb
Jasper Fforde
Neil Gaiman
Judy Blume
Who would be on your list?
Authors whose work I love, but whom I didn't count because of my self-imposed rules are Toni Morrison, Zora Neale Hurston, F. Scott Fitzgerald, Harper Lee, and Emily Brontë.
Some links I enjoyed this week:
Here's a bonus for you:
For the record, I have always believed it really was Catherine's ghost who disturbed Lockwood early in the novel.
The Sunday Post is a weekly meme hosted by Caffeinated Book Reviewer. It's a chance to share news, recap the past week on your blog, and showcase books and things we have received. See rules here: Sunday Post Meme.