Jane Austen's Sense and Sensibility is the story of two sisters, Elinor and Marianne Dashwood who, along with their younger sister Margaret, are children of their father's second marriage. When their father dies, their older half-brother John and his wife Fanny decide not to provide for their younger sisters and step-mother, leaving them in much reduced circumstances. Fanny does everything in her power to make her husband's family feel unwelcome, especially in light of Elinor's attachment to Fanny Dashwood's brother Edward Ferrars, which Fanny sees as an inappropriate match for her brother. The family removes to a cottage in Devonshire, where Marianne meets and falls in love with John Willoughby. The novel follows the romantic fortunes and misfortunes of Elinor and Marianne as they learn to strike a balance between sense and sensibility.
I first read this novel in 1998, during my first year as a high school teacher. It was refreshing to return to it again and discover I loved it as much as I remembered. I had completely forgotten Willoughby returns upon hearing of Marianne's illness to confess he still loves Marianne to Elinor. I can't remember if that scene was absent from both movies I've seen or just the most recent. I have always admired Elinor as the kind of person who puts others before herself and rolls up her sleeves to do what must be done. I wish I were more like her. To Marianne's credit, she realizes her behavior is selfish and repents of it. Her essential romantic nature and love for music and books is what I admire about her.
I can't tell if I like this book better than Pride and Prejudice or not. Elizabeth Bennet is a spunky, admirable character, and Mr. Darcy a worthy romantic hero. Yet, the Misses Dashwood certainly have their charms. I have thoroughly enjoyed my re-reads of both books this year.
Rating: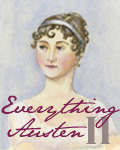 I re-read this novel for the Everything Austen Challenge. It is the second of six Austen-related activities I have planned. Others: