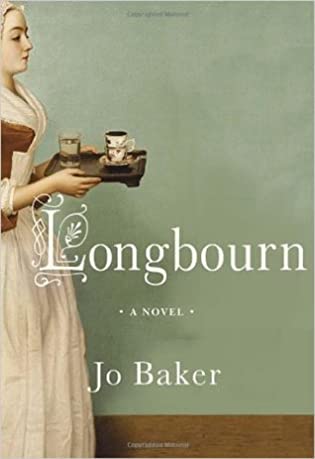 Longbourn
by
Jo Baker
Published by
Alfred A. Knopf
on October 8, 2013
Genres:
Historical Fiction
Pages:
352
Format:
E-Book
,
eBook
Buy on Amazon
Goodreads

• Pride and Prejudice was only half the story • If Elizabeth Bennet had the washing of her own petticoats, Sarah often thought, she'd most likely be a sight more careful with them. In this irresistibly imagined belowstairs answer to Pride and Prejudice, the servants take center stage. Sarah, the orphaned housemaid, spends her days scrubbing the laundry, polishing the floors, and emptying the chamber pots for the Bennet household. But there is just as much romance, heartbreak, and intrigue downstairs at Longbourn as there is upstairs. When a mysterious new footman arrives, the orderly realm of the servants' hall threatens to be completely, perhaps irrevocably, upended.

Jo Baker dares to take us beyond the drawing rooms of Jane Austen's classic—into the often overlooked domain of the stern housekeeper and the starry-eyed kitchen maid, into the gritty daily particulars faced by the lower classes in Regency England during the Napoleonic Wars—and, in doing so, creates a vivid, fascinating, fully realized world that is wholly her own.
I just loved this book. It's hard for me to believe a retelling of Pride and Prejudice could be better than this. The lives of the servants, some of whom rate barely a mention, are fully realized in Jo Baker's Longbourn. Mrs. Hill's backstory is fascinating (and entirely believable, based on what we know of Mr. Bennet); she is mentioned only a handful of times in Austen's novel. Sarah is mentioned only once in Pride and Prejudice, and the others are never mentioned by name.
I liked seeing Mr. Collins get a more sympathetic portrayal—he's much kinder to the servants than some of the Bennets themselves. Jo Baker's Wickham is odious—this story puts his elopement with Lydia in an entirely new and disturbing light. I appreciated Baker's empathy for Mrs. Bennet. In her hands, Elizabeth Bennet is imperfect and a bit thoughtless.
In addition, Baker captures the setting well. Longbourn and Pemberley are drawn in vivid relief from the vantage point of the kitchens, servants' quarters, and stables. There are some beautiful descriptive passages of the scenery, particularly near the end of the novel.
Austen doesn't say much about the Napoleonic Wars; many critics have pondered the oversight. Baker makes them a central part of one character's story. I also appreciated the way the book didn't shy away from issues of race and class. It's clear from the context that Mr. Bingley has earned his money somehow as part of the slave trade, and his former slave Ptolemy Bingley is a brilliant character.
I highly recommend this book to fans of Jane Austen, but even if you read Jane Austen and felt like something was missing, this book might be what you're looking for.