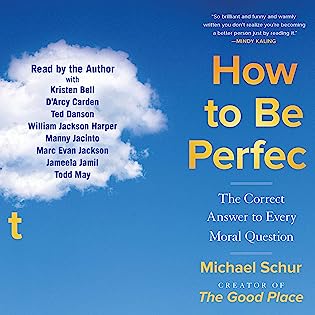 How to Be Perfect: The Correct Answer to Every Moral Question
by
Michael Schur
Published by
Simon Schuster Audio
on January 25, 2022
Genres:
Nonfiction
Format:
Audio
,
Audiobook
Source:
Library
Buy on Amazon
Goodreads

From the creator of The Good Place and the co-creator of Parks and Recreation, a hilarious, thought-provoking guide to living an ethical life, drawing on 2,500 years of deep thinking from around the world.

Most people think of themselves as "good," but it's not always easy to determine what's "good" or "bad"—especially in a world filled with complicated choices and pitfalls and booby traps and bad advice. Fortunately, many smart philosophers have been pondering this conundrum for millennia and they have guidance for us. With bright wit and deep insight, How to Be Perfect explains concepts like deontology, utilitarianism, existentialism, ubuntu, and more so we can sound cool at parties and become better people.

Schur starts off with easy ethical questions like "Should I punch my friend in the face for no reason?" (No.) and works his way up to the most complex moral issues we all face. Such as: Can I still enjoy great art if it was created by terrible people? How much money should I give to charity? Why bother being good at all when there are no consequences for being bad? And much more. By the time the book is done, we'll know exactly how to act in every conceivable situation, so as to produce a verifiably maximal amount of moral good. We will be perfect, and all our friends will be jealous. OK, not quite. Instead, we'll gain fresh, funny, inspiring wisdom on the toughest issues we face every day.
This book is both fun and thought-provoking. I am reading it alongside Michael Sandel's Justice: What's the Right Thing to Do?, and I find they cover the same ground (for the most part). Both books unpack complicated philosophy in ways that are easy to understand. Schur's book is also funny as well, and the audiobook provides a really fun Easter egg that I won't spoil. What I think Schur does very well in this book is apply philosophy to modern questions, and sometimes, there are no good answers. Ultimately, my conclusion is that we should think about these issues, and to paraphrase John Oliver, quoted in this book, it may be hard to draw the line between good and bad, but we have to draw it somewhere.