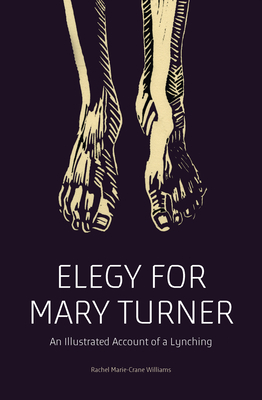 Elegy for Mary Turner: An Illustrated Account of a Lynching
by
Rachel Marie-Crane Williams
Published by
Verso
on March 16, 2021
Genres:
Biography
,
History
,
Nonfiction
Pages:
57
Format:
Paperback
Buy on Amazon
Goodreads

A lyrical and haunting depiction of American racial violence and lynching, evoked through stunning full-color artwork.

In late May 1918 in Valdosta, Georgia, ten Black men and one Black woman—Mary Turner, eight months pregnant at the time—were lynched and tortured by mobs of white citizens.

Through hauntingly detailed full-color artwork and collage, Elegy for Mary Turner names those who were killed, identifies the killers, and evokes a landscape in which the NAACP investigated the crimes when the state would not and a time when white citizens baked pies and flocked to see Black corpses while Black people fought to make their lives—and their mourning—matter.

Included are contributions from C. Tyrone Forehand, great-grandnephew of Mary and Hayes Turner, whose family has long campaigned for the deaths to be remembered; abolitionist activist and educator Mariame Kaba, reflecting on the violence visited on Black women's bodies; and historian Julie Buckner Armstrong, who opens a window onto the broader scale of lynching's terror in American history.
I read this book after one of my students recommended it. I think she may have read it in one of her other classes. This book describes one of the most horrific murders I think I've ever read about. And on top of everything that happened to Mary Turner and her family, the end of the book explains that the marker on the site of her lynching had to be removed to storage after being repeatedly defaced.
And yet some would have you believe that it's people who want students to know the truth, the full and real history of slavery, Jim Crow, racial terror lynching, and White supremacy who are racially divisive. We must reckon honestly with our history of racism. This is an important book about a history that people should know. This is not ancient history. My great-grandmother, whom I knew as a child, was born the year after Mary Turner.
NPR: An Author Replies To The Unspeakable In Her 'Elegy' For Lynching Victim Mary Turner
Equal Justice Initiative: Mary Turner, Pregnant, Lynched in Georgia for Publicly Criticizing Husband's Lynching