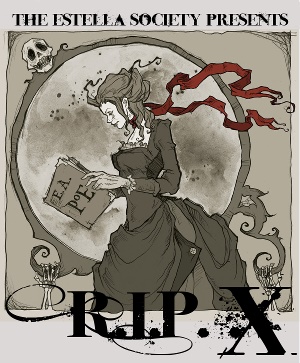 I can hardly believe it, but this year marks the 10th anniversary of the annual R. I. P. Challenge, hosted by Carl of Stainless Steel Droppings typically, but this year by Andi and Heather of the Estella Society. I look forward to this challenge more than any other every year, and it think it's mainly because it's the perfect marriage of time of year (fall) and subject matter—anything creepy, scary, or as Carl says, "Mystery. Suspense. Thriller. Dark Fantasy. Gothic. Horror. Supernatural." I plan to go for broke and read four books. Might be ambitious considering I have a book club and school is starting, but I am going to go all in this time and see what happens.
I need to figure out what I am going to read, but my longlist includes the following books, some of which I already have and should read:
 
 
 
 
 
 
 
 
 
 
 
 
 
 
 
 
 
 
It looks like a good list! Some of these books were on my list last year, and were probably there the year before. I really need to read the ones I've bought already, but I have to admit, I'm giving several of these books that I don't own some rather longing looks.
Aside from starting the challenge, there isn't much news. I have continued working my way through a re-read of both King Lear and A Thousand Acres in preparation for teaching them. I am also listening to the second book in the All Souls trilogy by Deborah Harkness, The Shadow of Night. I can't count it for the R. I. P. Challenge because I started it before the official start date of September 1. I have some other books I pick up from time to time. I've also been re-reading the Harry Potter series and am nearly finished with Harry Potter and the Order of the Phoenix. I really loathe Dolores Umbridge. She's too realistic a villain. I've known crappy teachers like her, and yes, sometimes they go on to be crappy administrators. That book is a really interesting study of what happens when the government interferes with education. I understand the purpose of oversight, but when you have a bunch of people who know nothing about teaching running the show, you're going to have a disaster. And frankly, this book is too accurate a portrayal of what that looks like in the real world, never mind Hogwarts.
So, are you joining me in the challenge?
The Sunday Post is a weekly meme hosted by Caffeinated Book Reviewer. It's a chance to share news, recap the past week on your blog, and showcase books and things we have received. See rules here: Sunday Post Meme.