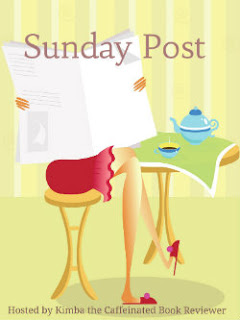 It has been exactly four weeks since I have written a Sunday Post. I have had a pretty busy summer, but I didn't realize I hadn't updated in that long. I have made some excellent progress on reading goals, mainly because I'm teaching a new course this year, and I needed to read some of the books to prepare. I'm in the process of re-reading some others in order to have them fresher in my mind as I teach them.
Since I last wrote a Sunday Post, I have finished reading Gilead by Marilynne Robinson, The Song of Solomon by Toni Morrison, The Piano Lesson by August Wilson, and The Remains of the Day by Kazuo Ishiguro. I have also been re-reading the Harry Potter series on my Kindle, which I find an easy way to get through those fat monsters at a faster clip. I am about a third of the way through my re-read of Harry Potter and the Order of the Phoenix. I also read The Complete Maus, but I didn't review it because I think I have already reviewed it before.
I have completed the level of the Historical Fiction Challenge to which I had committed. I should go up another level. I'm nearly there for the next level, and there is still plenty of time. I'm just never sure how much time I'll be able to commit to a challenge. I hate to say I've abandoned a challenge this early, but I have pretty much given up on the Literary Movement Challenge. I didn't have time to get to the literary movement for May, and I just never moved forward from there. It's okay. I had plenty of reading I needed to do for school. I'm doing okay with the other challenges, and I'm ahead on my total reading goal of reading 52 books, which is a good position in which to be, given I will most likely get pretty busy as school starts and will need some cushion time.
I have not added a lot of books to my TBR pile, which is a good thing, as it's already too big.
Right now, I'm re-reading both King Lear and A Thousand Acres for my new course. I am really enjoying reading these books concurrently, and I am especially enjoying listening to the Naxos Audio production of King Lear featuring Paul Schofield as Lear, Toby Stephens as Edmund, and Kenneth Branagh as the Fool (and a host of other superb actors). I highly recommend it.
The Sunday Post is a weekly meme hosted by Caffeinated Book Reviewer. It's a chance to share news, recap the past week on your blog, and showcase books and things we have received. See rules here: Sunday Post Meme.