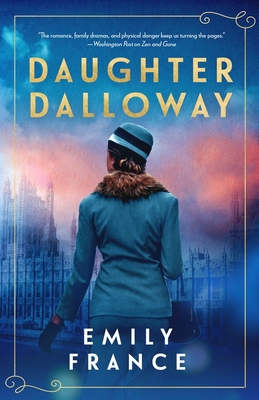 Daughter Dalloway
by
Emily France
Published by
Blackstone Publishing
on March 14, 2023
Genres:
Historical Fiction
Pages:
350
Format:
Hardcover
Source:
Library
Buy on Amazon
Goodreads

A retelling of Virginia Woolf's classic Mrs. Dalloway, from the point of view of the famous socialite's only child, Elizabeth.

It is 1952 and forty-six-year-old Elizabeth Dalloway—arguably the most inept socialite in all of London—is fresh off yet another of her awkward parties. She feels she has failed at most everything in life, especially living up to her perfect mother—the elegant Mrs. Dalloway, the woman who never made a misstep, the woman who never arrived for her very own party at the end of the 1923 Season. And hasn't been heard from since.

Elizabeth has given up ever finding out what really happened that summer until she comes across a WWI medal inscribed with a mysterious message from her mother to a soldier, Septimus Warren Smith. Elizabeth sets out to find a member of his family in the hopes she will finally learn her mother's fate. Her journey takes her across London as she pieces together that last summer of 1923 when Elizabeth was a seventeen-year-old girl who escaped her mother's watchful eye and rebelled against the staid social rules of prewar England. A girl who caroused with the Prince of Wales and sons of American iron barons, a girl determined to do it all differently than her mother. A girl who didn't yet feel like a failure.

Faithful to the original yet fully standing alone, Daughter, Dalloway follows Elizabeth as she discovers the truth: though decades have passed and opportunities for women have changed, expectations haven't: to be it all, whatever the costs. And that she shares much more with her mother than she ever knew.
I finished this book a few days ago and had to think about how to rate it. Any author who takes up Virginia Woolf's mantle is bound to pale in comparison. She's one of the greatest writers to have lived, and some consider Mrs. Dalloway to be her masterpiece. It's a book I love, and I love teaching it. On the other hand, this book has some great moments and is well-researched. While Elizabeth Dalloway is Woolf's creation, Septimus Warren Smith's sister Octavia is France's invention, and I enjoyed her character. I didn't enjoy her companions Redvers and his brother George—they were stock street urchin characters, and they didn't seem as realistic to me as the other characters France invented. I thought it was far-fetched that Clarissa would commission a medal for Septimus, and her fate, which is a bit spoilery, also struck me as a stretch given what I know of Woolf's thinking about her characters.
However, I admit France made me think about the concept of the stream of consciousness in a new way, and I plan to share this idea with my students. Typically, I teach stream of consciousness as the way our thoughts flow from one to another, and France also adheres to this definition, but she also conceives of the stream of consciousness as the thread that joins all of us together. This idea resembles Ralph Waldo Emerson's concept of the Over-Soul more than it resembles the traditional conception of stream of consciousness, but I liked it. In his essay on the Over-Soul, Emerson quotes Byron in arguing that the soul "Can crowd eternity into an hour, / Or stretch an hour to eternity." One could argue Woolf was trying to do both with Mrs. Dalloway.
Reading this book has given me some ideas for teaching Mrs. Dalloway, and it's better than average historical fiction. Compared to its source material, it can't help but suffer—it does not quite pull off the same feat as The Hours—but it was pretty good.