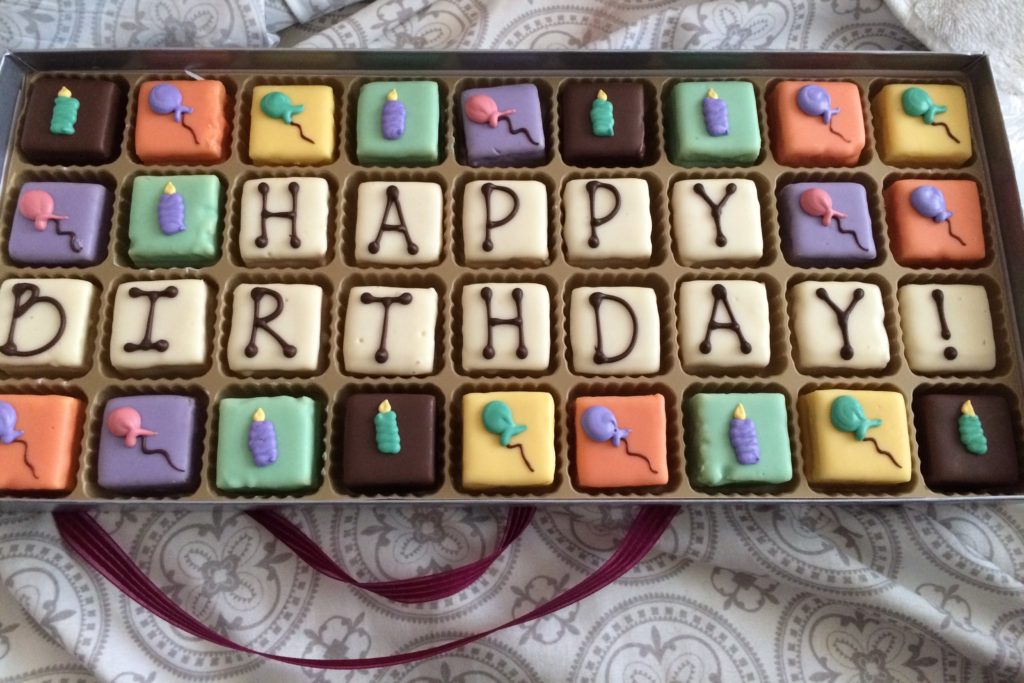 It was my birthday this weekend. I have moved into a new demographic!
I decided I wanted to go to Northampton and Amherst for my birthday. There was a Poetry Festival in Amherst, but unfortunately, most of the events I wanted to go to were on Thursday or Friday before I could get there. Bummer. On Saturday, the Emily Dickinson House was sponsoring a marathon reading of all 1789 of her poems, but I really didn't want to just dip in and out of that, so I wound up deciding to spend Saturday afternoon in Northampton.
Northampton and Amherst are college towns. Between the two of them, I count U Mass Amherst, Amherst College, Smith College, Mouth Holyoke College, and Hampshire College. I may be forgetting some. At any rate, they are close together, and with all those colleges, you can imagine the college-town vibe is strong. Northampton is definitely fairly funky, at least the downtown area.
We found a wonderful used bookstore. I loved it because the books were mostly in pristine condition. So many used bookstores don't have really nice books, and most of them certainly don't have the kind of selection Raven Used Books has. Here is my haul from Saturday.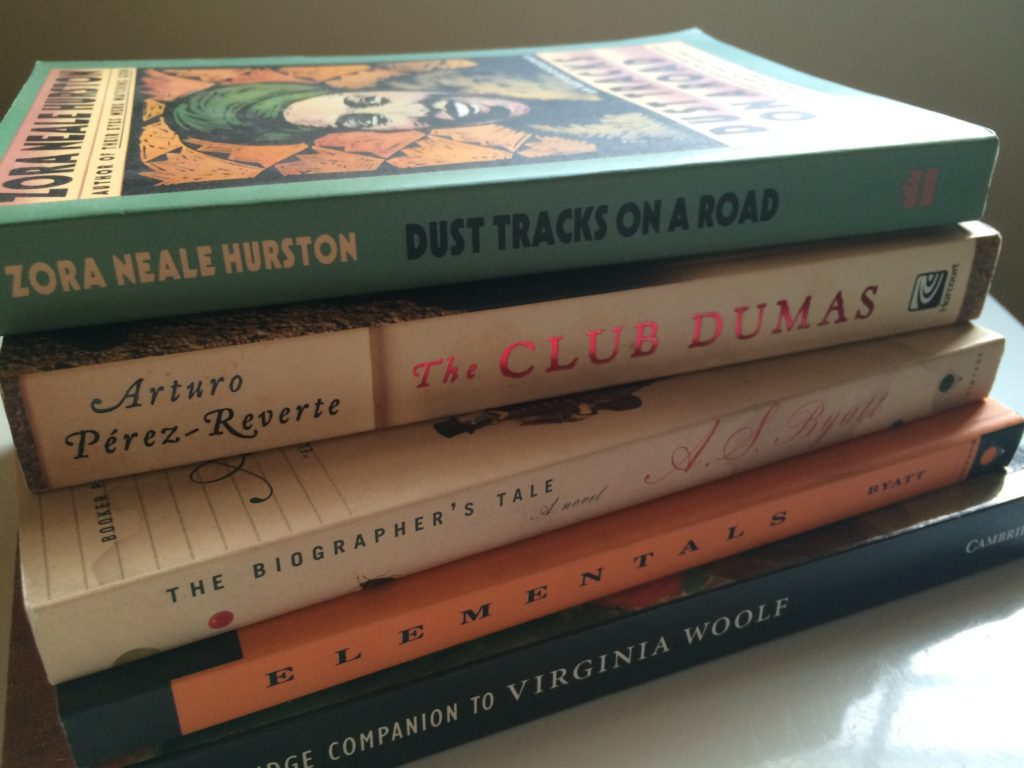 We went back today before leaving for home, and I scored two more books: Mary Sharratt's Illuminations and Elena Mauli Shapiro's 13 Rue Thérèse. The Club Dumas looks like it might be perfect for the R. I. P. Challenge, and who knew that there was a historical fiction novel about Hildegard von Bingen (Illuminations)? Byatt's novel doesn't have great reviews on Amazon, but I'll give it a go. I loved Possession so much.
For my birthday lunch, we went to a burger place called Local Burger. Back when I was in college, I could get an excellent hamburger for about a buck at the cafeteria on campus. It had a nice charbroiled flavor, and it was juicy without being pink (pink ground beef skeeves me out). I hadn't had a burger as good as those old cheap cafeteria burgers since. Until this one. And the fries were amazing.
We drove into Amherst and stopped into Amherst Books where I found a remainder of Remembering Shakespeare by David Scott Kastan and Kathryn James and Living with Shakespeare edited by Susannah Carson with essays by so many people—F. Murray Abraham, Isabel Allende, Brian Cox, Ralph Fiennes, James Earl Jones, Maxine Hong Kingston, Jane Smiley, Joyce Carol Oates, and many others.
Last night for dinner, we had some excellent Italian food at Pasta e Basta. I was "that person" and took a picture of my pasta because it was so pretty.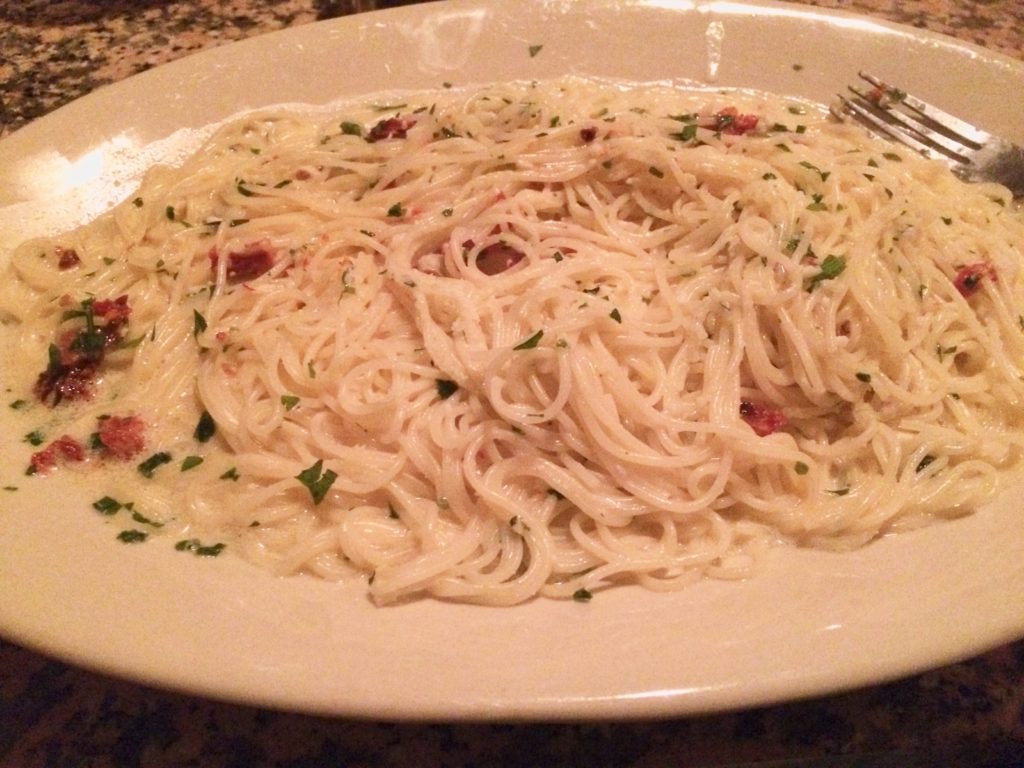 I wish I could have brought my leftovers home. There was at least another meal left on that plate. I didn't think it would travel well, though.
After dinner we picked up some cookies at Insomnia Cookies. Had such a thing existed when I was in college, I have no idea how big I'd be by now. We got four kinds of cookies, and I can definitely recommend the Double Chocolate Mint. I also tried Peanut Butter Chip, but the Chocolate Chunk and M&M cookies were all gone too fast.
This morning, we went to Jake's for breakfast, and I had some fantastic eggs, potatoes, and toast. We walked around and did some more shopping. I found myself this glorious Brontë sisters mug with quotes from the sisters' works.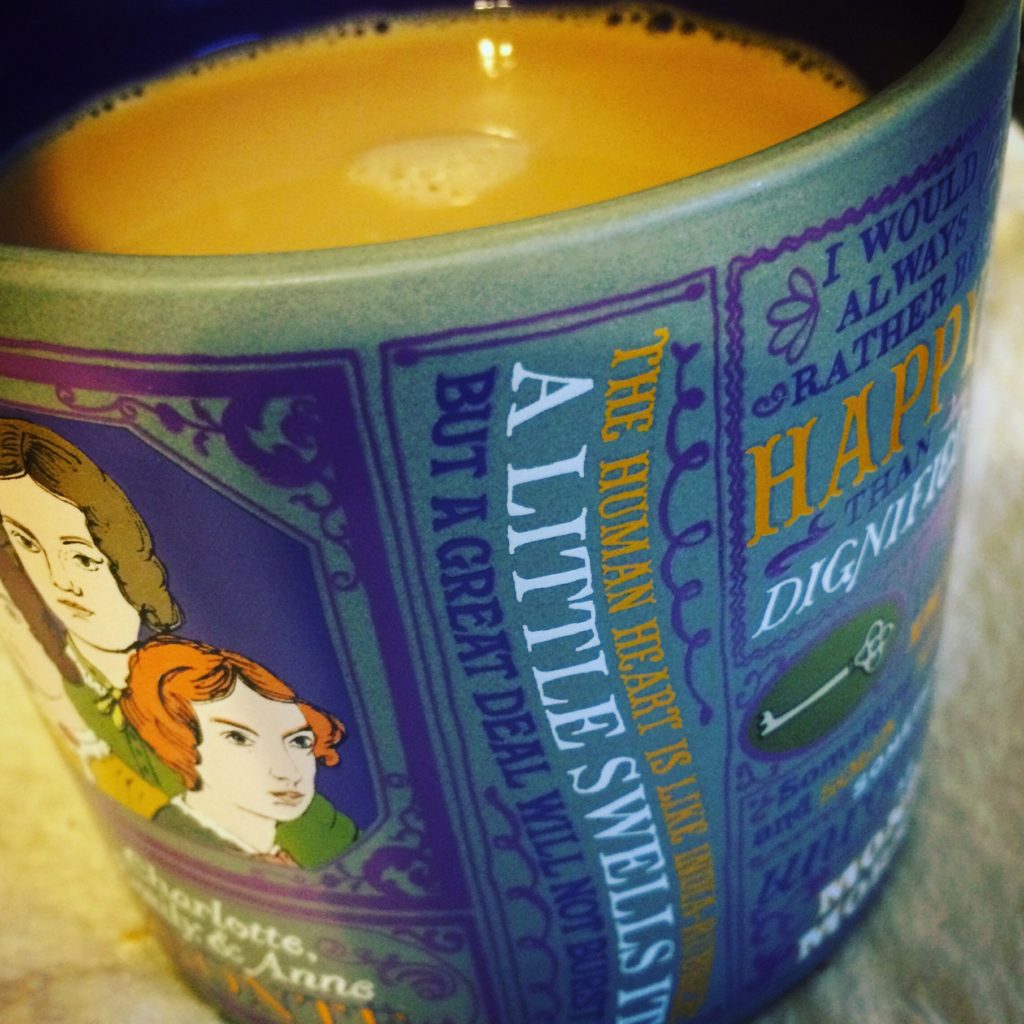 Northampton and Amherst are nice places to visit, and they're only a little over an hour away. They have a different feel from other places in Massachusetts—perhaps because they're college towns, or perhaps because they're in the western part of the state. We don't really have indie bookstores in Worcester, either (that I know of)—just B&N, so it was nice to go book shopping in those places and score some deals on some great-looking new and used books. In addition, everything was pretty reasonably priced—another of the virtues of a college town, I suppose.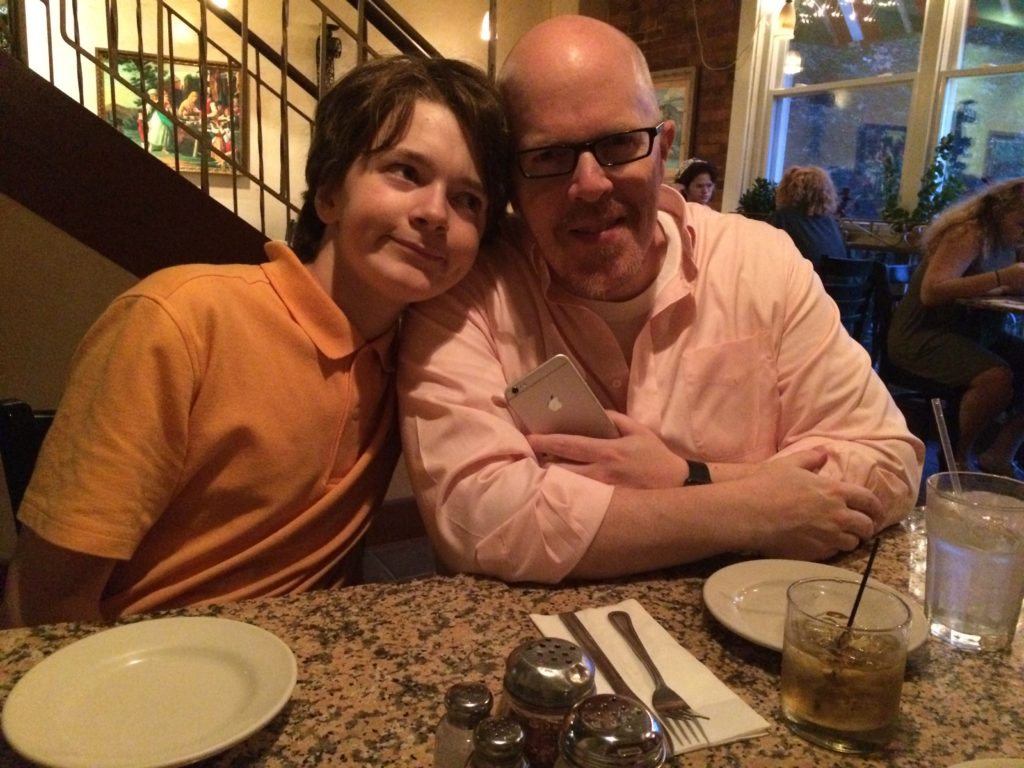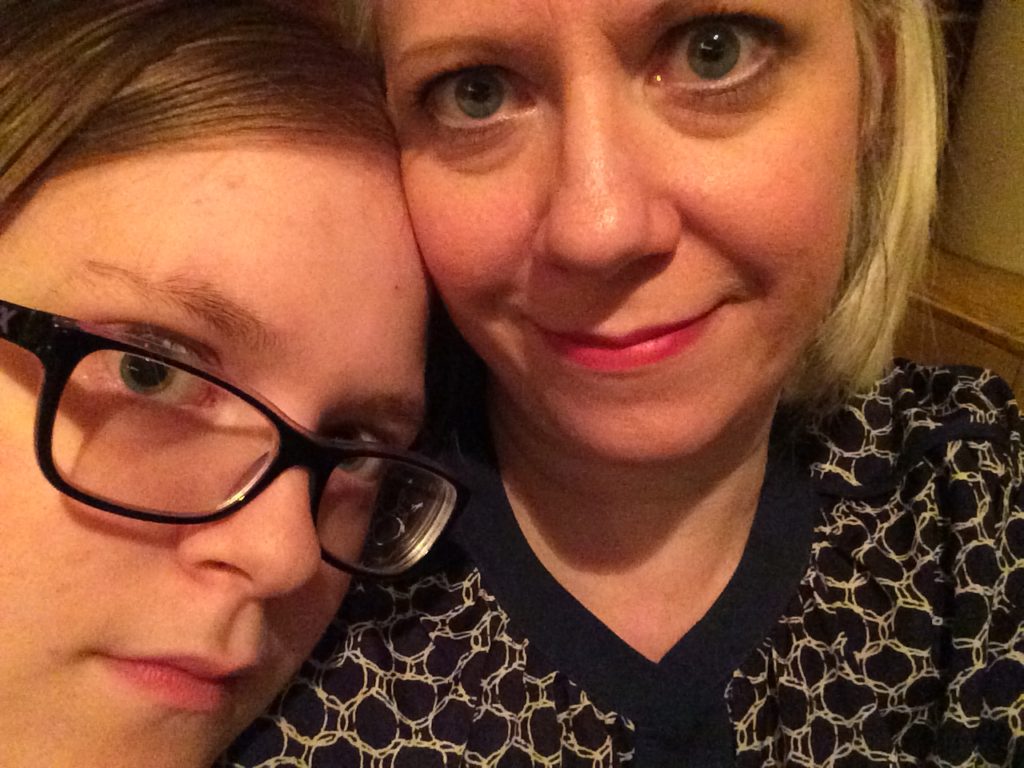 Once I was home, Steve presented with two more books: A Loaded Gun: Emily Dickinson for the 21st Century by Jerome Charyn and The Life-Changing Magic of Not Giving a Fuck by Sarah Knight. He had already given me Emily Dickinson's Poems: As She Preserved Them. My parents sent me a gift card for more goodies from Amazon, too. I really need to do some reading!
P. S. I have no idea why the last image is upside-down on some devices. I can't figure out how to fix it without deleting and starting over, though, so I just left it.