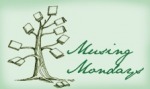 This week's Musing Mondays question is "Do you have any hobbies outside of reading? Or do you collect anything?"
As a matter of fact, I have a really fun, somewhat new hobby that I have mentioned a couple of times on this blog. I make cold process soap. Cold process is another name for making soap from scratch, which means I mix lye and water with oils and fats to produce soap. Melt and pour is a process by which you take soap that has already been made, such as a glycerin base or a bar of commercial or handmade soap, and melt it down, then forming it into shapes or bars. I have not tried that particular process, which is considered a little easier, but also gives you a little more room for creativity with shapes and colors (that's just my observation).
I blog about my soap-making adventures at Suds Life. I have also recently opened a store on Etsy and a Facebook fan page (feel free to "like" it!). I have actually sold one bar of soap and would love to sell some more, so check it out! I am adding new soap all the time.
I love making soap. It is a very zen sort of activity. I have complete control over all the ingredients that go into my soap. It is not unlike cooking that way. I can also try new things and experiment. Interestingly, I find I like to experiment even more with soap recipes than I do with food recipes! My favorite soap so far is a pumpkin pie soap I made not too long ago. I love the way it turned out. Although I have to say that the most recent soap batch I made, Cinnamon Apple Cider, turned out extraordinarily well. Here is a photo:
It looks and smells just like applesauce. I think it might be a major contender for a new favorite.
I enjoy everything about this hobby, and I look forward to many happy years of soaping.
Aside from making soap, I also write and love to participate in NaNoWriMo every year. I also like cross stitching, though I don't do it often. I don't watch a ton of TV, but I like Downton Abbey, Sherlock Holmes (BBC with Benedict Cumberbatch), Doctor Who, and The Big Bang Theory.
It strikes me that readers tend to be hobbyists fairly often; specifically, readers tend to be "crafty" types. I know a lot of readers who knit, make books, paint, crochet, sew, or cook. I wonder why that is. Any thoughts?