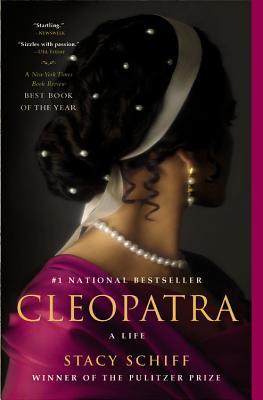 Cleopatra: A Life
by
Stacy Schiff
Published by
Back Bay Books
on September 6, 2011
Genres:
Biography
,
History
,
Nonfiction
Pages:
432
Format:
E-Book
,
eBook
Buy on Amazon
Goodreads

The Pulitzer Prize-winning biographer brings to life the most intriguing woman in the history of the world: Cleopatra, the last queen of Egypt. Her palace shimmered with onyx, garnets, and gold, but was richer still in political and sexual intrigue. Above all else, Cleopatra was a shrewd strategist and an ingenious negotiator. Though her life spanned fewer than forty years, it reshaped the contours of the ancient world. She was married twice, each time to a brother. She waged a brutal civil war against the first when both were teenagers. She poisoned the second. Ultimately she dispensed with an ambitious sister as well; incest and assassination were family specialties. Cleopatra appears to have had sex with only two men. They happen, however, to have been Julius Caesar and Mark Antony, among the most prominent Romans of the day. Both were married to other women. Cleopatra had a child with Caesar and—after his murder—three more with his protégé. Already she was the wealthiest ruler in the Mediterranean; the relationship with Antony confirmed her status as the most influential woman of the age. The two would together attempt to forge a new empire, in an alliance that spelled their ends. Cleopatra has lodged herself in our imaginations ever since. Famous long before she was notorious, Cleopatra has gone down in history for all the wrong reasons. Shakespeare and Shaw put words in her mouth. Michelangelo, Tiepolo, and Elizabeth Taylor put a face to her name. Along the way, Cleopatra's supple personality and the drama of her circumstances have been lost. In a masterly return to the classical sources, Stacy Schiff here boldly separates fact from fiction to rescue the magnetic queen whose death ushered in a new world order. Rich in detail, epic in scope, Schiff 's is a luminous, deeply original reconstruction of a dazzling life.
I think Cleopatra can best be summed up in a line from the immortal Beyoncé's song "Formation."
In all seriousness, this is a great biography, and I learned a lot. Schiff argues that Cleopatra's legacy can be summed up by the fact that "in two thousand years only one or two other women could be said to have wielded unrestricted authority over so vast a realm." Unfortunately, her story was co-opted by her enemies, and so she is known to history as a wily seductress, an ambitious temptress, and a deviant whore. Schiff explains that she was none of those things. What she was, however, was a smart, capable, formidable woman—a total badass. Shiff says that "her story is constructed as much of male fear as fantasy" and asserts that "the turncoats wrote [her] history."
It has always been preferable to attribute a woman's success to her beauty rather than to her brains, to reduce her to the sum of her sex life. Against a powerful enchantress there is no contest. Against a woman who ensnares a man in the coils of her serpentine intelligence—in her ropes of pearls—there should, at least, be some kind of antidote. Cleopatra unsettles more as sage than as seductress; it is less threatening to believe her fatally attractive than fatally intelligent.
Yes, QUEEN! Preach! Shiff's appropriate eulogy is that Cleopatra "convinced her people that a twilight was a dawn and—with all her might—struggled to make it so."
This biography is well-written and engaging. Schiff's research must have been difficult since history has been so unkind to Cleopatra. She must have had to do a great deal of reading between the lines to uncover a more balanced portrait. If Schiff's account of Cleopatra's life attempts to tip the scales in the great woman's favor rather than to take the Roman historians at face value, I can't fault her. The only reason for me that this book doesn't earn 5 stars is that I didn't have any trouble putting it down for stretches of time. I wanted to finish it, and I was definitely not bored, however, so I would not argue that it doesn't captivate. The chapters are really long, and I would have liked more breaks. I think the prospect of opening the book on my Kindle app and seeing that the chapter would take over an hour to read may have been too daunting on a few occasions. I'm not a fan of stopping the middle of a chapter, but I had to sometimes when reading this book. On the other hand, Schiff's writing style is eminently readable and at times waxes poetic. Schiff paints a fascinating portrait of a much-maligned, highly intelligent, and incredibly ingenious woman.