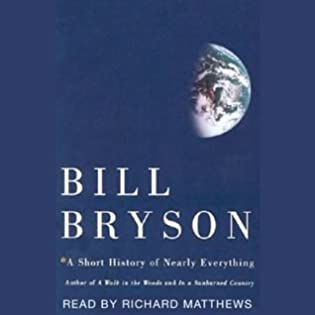 A Short History of Nearly Everything
by
Bill Bryson
Published by
Books on Tape
on October 17, 2003
Genres:
History
,
Nonfiction
,
Science
Format:
Audio
,
Audiobook
Buy on Amazon
Goodreads

Bill Bryson has been an enormously popular author both for his travel books and for his books on the English language. Now, this beloved comic genius turns his attention to science. Although he doesn't know anything about the subject (at first), he is eager to learn and takes information that he gets from the world's leading experts and explains it to us in a way that makes it exciting and relevant. Even the most pointy-headed, obscure scientist succumbs to the affable Bryson's good nature and reveals how he or she figures things out. Showing us how scientists get from observations to ideas and theories is Bryson's aim, and he succeeds brilliantly. It is an adventure of the mind, as exciting as any of Bryson's terrestrial journeys.
I have read quite a few Bill Bryson books this year. I enjoy his comic voice, which is evident in this book, though not as strong as in the other books I read. Partly, it's the subject matter. Still, he manages to explain some complex topics in an accessible way and be entertaining at the same time. I was reminded in particular of my courses in anthropology, astronomy, and weather and climate from college as I listened. I was surprised I remembered so much.
The book might be a little out of date. I think it was originally published in 2003, and I have a whole grown-up son living in my house who was published the same year. As such, given the scientific nature of the book's topics, I believe some of the information to be out of date. For example, Bryson asserts in the books that Neanderthals and Homo sapiens did not breed and even argued that the results might be similar to a mule (!). Well, I'm not sure when scientists discovered that's not true, but the current prevailing thought is that they did, and not only did they, but many people the world over carry Neanderthal DNA. That was one example that I caught. It's tricky because what we understand and the science behind it changes all the time.
Still, this was an enjoyable read, and I highly recommend the audiobook. The narrator is not Bryson, but he's great.