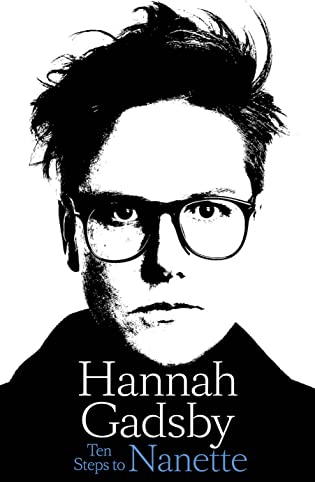 Ten Steps to Nanette
by
Hannah Gadsby
Published by
Allen & Unwin
on March 29, 2022
Genres:
Memoir
Pages:
400
Format:
Hardcover
Source:
Library
Buy on Amazon
Goodreads

Multi-awardwinning Hannah Gadsby transformed comedy with her show Nanette, even as she declared that she was quitting stand-up. Now, she takes us through the defining moments in her life that led to the creation of Nanette and her powerful decision to tell the truth-no matter the cost.

"There is nothing stronger than a broken woman who has rebuilt herself."—Hannah Gadsby, Nanette

Gadsby's unique stand-up special Nanette was a viral success that left audiences captivated by her blistering honesty and her ability to create both tension and laughter in a single moment. But while her worldwide fame might have looked like an overnight sensation, her path from open mic to the global stage was hard-fought and anything but linear. Ten Steps to Nanette traces Gadsby's growth as a queer person from Tasmania—where homosexuality was illegal until 1997—to her ever-evolving relationship with comedy, to her struggle with late-in-life diagnoses of autism and ADHD, and finally to the backbone of Nanette—the renouncement of self-deprecation, the rejection of misogyny, and the moral significance of truth-telling. Equal parts harrowing and hilarious, Ten Steps to Nanette continues Gadsby's tradition of confounding expectations and norms, properly introducing us to one of the most explosive, formative voices of our time.
I had this book on hold in the library for so long that I forgot I'd done so. I was eager to read it because I found Nanette profoundly moving.  If you've seen Nanette or Gadsby's newer show Douglas, some of the material in the memoir will be familiar to you. There are some traumatic details in the memoir that Gadsby elides, while other events are given more context than she has previously given in her show. We are all in charge of our stories and tell them the way we need to tell them, so I was unbothered—this is a memoir after all. I was fascinated by Gadsby's stories about learning she had ADHD and autism. Her descriptions of how she struggled with tasks and frustrated others felt so familiar to me as I have watched my own children struggle in similar ways. Some parts of the memoir are much longer—Gadsby's formative years take up the longest chapter—but I understand why the book was broken up the way it was. She is grouping parts of her life together in ways that explain where Nanette came from, so some parts just have to be longer. Gadsby sprinkles footnotes throughout, and they reminded me of Gadsby's asides during her shows. I'm not sure how they'd impact the audiobook, but I didn't find them distracting in the hardcover. I'd definitely recommend this memoir to anyone who has appreciated Hannah Gadsby's shows and wants to know more about her creative process and inspiration.