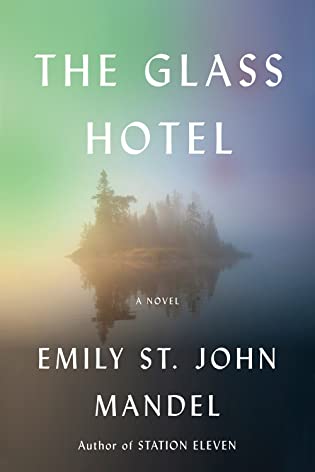 The Glass Hotel
by
Emily St. John Mandel
Published by
Knopf Publishing Group
on March 24, 2020
Format:
Audio
,
Audiobook
Source:
Library
Buy on Amazon
Goodreads

From the award-winning author of Station Eleven, an exhilarating novel set at the glittering intersection of two seemingly disparate events—a massive Ponzi scheme collapse and the mysterious disappearance of a woman from a ship at sea.

Vincent is a bartender at the Hotel Caiette, a five-star lodging on the northernmost tip of Vancouver Island. On the night she meets Jonathan Alkaitis, a hooded figure scrawls a message on the lobby's glass wall: Why don't you swallow broken glass. High above Manhattan, a greater crime is committed: Alkaitis is running an international Ponzi scheme, moving imaginary sums of money through clients' accounts. When the financial empire collapses, it obliterates countless fortunes and devastates lives. Vincent, who had been posing as Jonathan's wife, walks away into the night. Years later, a victim of the fraud is hired to investigate a strange occurrence: a woman has seemingly vanished from the deck of a container ship between ports of call.

In this captivating story of crisis and survival, Emily St. John Mandel takes readers through often hidden landscapes: campgrounds for the near-homeless, underground electronica clubs, the business of international shipping, service in luxury hotels, and life in a federal prison. Rife with unexpected beauty, The Glass Hotel is a captivating portrait of greed and guilt, love and delusion, ghosts and unintended consequences, and the infinite ways we search for meaning in our lives.
I checked this book out right after finishing Sea of Tranquility because I understood it had many of the same characters as that book. For most of the book, I admit this one was sitting on 4 stars, but I bumped it up by the end because I didn't want to stop listening once I reached the last couple of hours. It didn't reach the brilliance of Sea of Tranquility or Station Eleven for me, but it was definitely interesting. Who knew you could write a lyrical novel about a Ponzi scheme? But it is. I can't really say I liked any of the characters, but I'm not sure you're supposed to. My favorite parts were the office workers reflecting on what they were doing—Mandel calls these sections the Office Chorus. I understand she has said that the Bernie Madoff Ponzi scheme inspired her, and she was curious as to what the people working with him were thinking as they engaged in this illegal and unethical behavior. This book explored humanity's interconnectedness and how our pasts and the people in them haunt us. It was compelling, though I'm not sure it will rise to the top reads of 2023—Sea of Tranquility might.