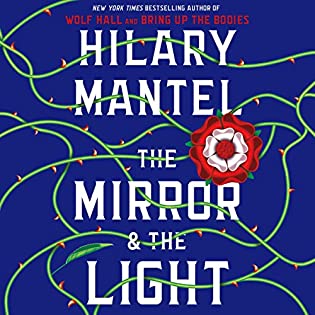 The Mirror & the Light (Thomas Cromwell, #3)
by
Hilary Mantel
Series:
Thomas Cromwell #3
Published by
Macmillan Audio
on March 10, 2020
Genres:
Historical Fiction
Format:
Audio
,
Audiobook
Source:
Audible
Buy on Amazon
Goodreads

"If you cannot speak truth at a beheading, when can you speak it?"

England, May 1536. Anne Boleyn is dead, decapitated in the space of a heartbeat by a hired French executioner. As her remains are bundled into oblivion, Thomas Cromwell breakfasts with the victors. The blacksmith's son from Putney emerges from the spring's bloodbath to continue his climb to power and wealth, while his formidable master, Henry VIII, settles to short-lived happiness with his third queen before Jane dies giving birth to the male heir he most craves.

Cromwell is a man with only his wits to rely on; he has no great family to back him, no private army. Despite rebellion at home, traitors plotting abroad and the threat of invasion testing Henry's regime to the breaking point, Cromwell's robust imagination sees a new country in the mirror of the future. But can a nation, or a person, shed the past like a skin? Do the dead continually unbury themselves? What will you do, the Spanish ambassador asks Cromwell, when the king turns on you, as sooner or later he turns on everyone close to him?

With The Mirror & the Light, Hilary Mantel brings to a triumphant close the trilogy she began with Wolf Hall and Bring Up the Bodies. She traces the final years of Thomas Cromwell, the boy from nowhere who climbs to the heights of power, offering a defining portrait of predator and prey, of a ferocious contest between present and past, between royal will and a common man's vision: of a modern nation making itself through conflict, passion, and courage.
What a fantastic close to Hilary Mantel's Thomas Cromwell saga. Mantel is a gifted storyteller, and in her hands, Cromwell emerges as a deeply complex man who rose from nothing—the son of a blacksmith in Putney—to one of Henry VIII's chief counselors. This book covers Cromwell's fall from grace, and though I knew how Cromwell's story would end—it's a matter of recorded history—I dreaded seeing it come to pass. He inspired love and loyalty among his family and servants, but jealousy and ire among Henry VIII's circle.
One aspect of Mantel's characterization that I appreciate most is the wry sense of humor she gives Cromwell. I listened to both Wolf Hall and Bring Up the Bodies prior to listening to this book, and it struck me that this book had more humor in it, though you might not expect that to be the case, given Cromwell's well-documented end. As with other people who "crossed" Henry VIII, Cromwell's downfall was swift. I won't share any spoilers here, but let's just say his ending was particularly sad—unfair blame and betrayal.
Ben Miles does a great job with the narration. Seems other reviewers didn't like him (based on reviews left on Audible), and I'm puzzled as to why. The audiobook had a great interview between narrator Ben Miles and author Hilary Mantel.
I'm counting this book for my February read set in Western Europe in the Book Voyage: Read Around the World Challenge.