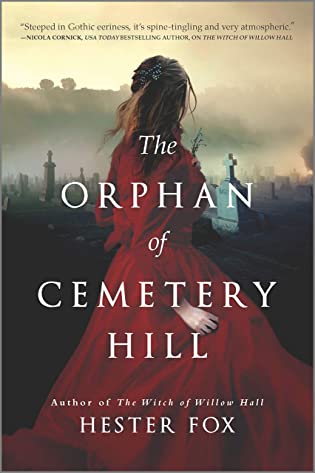 The Orphan of Cemetery Hill
by
Hester Fox
Published by
Graydon House
on September 15, 2020
Genres:
Fantasy/Science Fiction
,
Historical Fiction
Pages:
337
Format:
E-Book
,
eBook
Source:
Library
Buy on Amazon
Goodreads

The dead won't bother you if you don't give them permission.


Boston, 1844.

Tabby has a peculiar gift: she can communicate with the recently departed. It makes her special, but it also makes her dangerous.

As an orphaned child, she fled with her sister, Alice, from their charlatan aunt Bellefonte, who wanted only to exploit Tabby's gift so she could profit from the recent craze for seances.

Now a young woman and tragically separated from Alice, Tabby works with her adopted father, Eli, the kind caretaker of a large Boston cemetery. When a series of macabre grave robberies begins to plague the city, Tabby is ensnared in a deadly plot by the perpetrators, known only as the "Resurrection Men."

In the end, Tabby's gift will either save both her and the cemetery—or bring about her own destruction.
I wanted to read this book for two reasons:
I had just finished Hester Fox's newest book, A Lullaby for Witches, and there was an excerpt of this book at the end. I liked the first chapter.
It is set in Boston, one of my favorite places.
After reading two of Hester Fox's books (and having started a third), I feel secure in saying Fox is at her best in setting the scene. She evokes gothic New England settings with the practiced hand of the historian she is. The inspiration for Cemetery Hill is the Copp's Hill Burying Ground in Boston's North End. The North End is one of my favorite areas of Boston. Fox brings 19th-century Boston to life, but in my case, she didn't have to work too hard since I had seen many of the places in the novel.
Characterization is more of a challenge. I found Tabby to be naive—especially for someone who has had to live by her wits for so long. I didn't understand why she was so interested in Caleb. I didn't like him at all, and it didn't say much about her taste in men that she was that interested in him. He never seemed able to make up his mind what he wanted, and I suppose that's realistic enough—real people have that problem. More problematic was that Fox didn't seem to know if he was a decent guy or not, so he just came off to me as confusing. The lead characters just didn't strike me as real in the way the characters in A Lullaby for Witches did. I don't have to like characters in order to enjoy a book. Wuthering Heights is my favorite book, and I hate all the characters. I suppose something I have discovered about myself is that if a writer can take me to a place, I enjoy the reading experience, and Hester Fox can certainly take a reader to a place.
This paragraph contains a slightly spoilery detail. The sinister plot at the heart of the book didn't ring true. I found it easier to believe Tabby was clairvoyant than that the villains in this novel were interested in using her ability to reanimate the dead. Why? What were they hoping to accomplish? That question was never clearly answered. I get why people would want to contact the dead, but I didn't understand their Frankenstein-like pursuit of reanimation.
Those quibbles aside, I still believe the book is worth 3.5 stars. Why? I really enjoyed the setting, and I found Fox's evocation of 1850s Boston fascinating. Though the lead characters didn't interest me, I did like Eli and Tabby's sister Alice. The book is escapist fun for any reader who likes gothic stories in a New England setting.