"The Adventure of Silver Blaze" takes Sherlock Holmes and John Watson out to the Dartmoor countryside to investigate the case of the missing racehorse Silver Blaze and the murder of the horse's trainer, John Straker. Watson has been following the sensational case in the newspaper and is unsurprised when Sherlock decides to become involved in the investigation. Once in King's Pyland, Holmes discovers that a man named Fitzroy Simpson is suspected of having murdered Straker, but Sherlock Holmes is not sure at all that the police have the right man. A quick investigation of the scene where Straker's body was found coupled with an investigatory stroll out on the moor with Watson convinces Holmes that his deductions are correct.
I really enjoyed this story. The location in Dartmoor was a refreshing change of pace for Holmes and Watson, and the mystery was compact and unfolded well. The writing was fun, too. I read this story so many years ago that I had forgotten it was the inspiration for the title of Mark Haddon's novel The Curious Incident of the Dog in the Night-Time. Christopher Boone, the protagonist of Haddon's novel, loves Sherlock Holmes and that particular book begins with an investigation of the murder of his neighbor's dog. In the context of this story, Holmes points out that it is odd that the dog in the stables did not bark.
"Is there any point to which you would wish to draw my attention?"

"To the curious incident of the dog in the night-time."

"The dog did nothing in the night-time."

"That was the curious incident," remarked Sherlock Holmes.
To be honest, if I had remembered this story years ago when I read The Curious Incident of the Dog in the Night-Time, I might have figured out the mystery in that book sooner, too. This is one of the better Sherlock Holmes stories I've read for this reading challenge, and it's a particularly good display of Holmes's deductive techniques. I can't recall seeing any elements of it in the BBC series Sherlock, but those lines between Sherlock and Detective Gregory above would have been brilliant coming from Benedict Cumberbatch and Rupert Graves or Martin Freeman. If they make more episodes, I hope they will return to this short story.
Rating: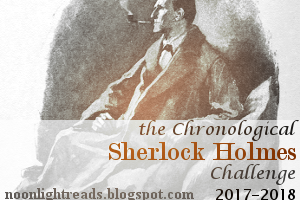 I read this story as part of the Chronological Sherlock Holmes Challenge. It is twentieth story in the chronology (time setting rather than composition). Next up is "The Stock-Broker's Clerk."