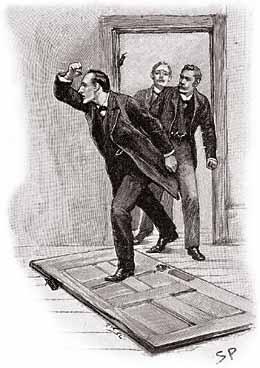 "The Stock-Broker's Clerk" is a slight narrative concerning the strange behavior of two men who have engaged the employment of Mr. Hall Pycroft. Pycroft is mystified by his employers' actions and demeanor, so he seeks the help of Sherlock Holmes to determine what is at the bottom of it all and what the two men might truly want. Sherlock Holmes visits Watson and asks if he would be interested in accompanying him to Birmingham to help solve the mystery. Watson, newly married and establishing a medical practice, agrees to allow his neighbor to take on his patients in his absence and sets off at once.
There isn't a whole lot to this story, though the characterization is interesting. Pycroft is portrayed as fairly sharp, and Watson makes a point of observing that he is "Cockney" and that Cockney Londoners have contributed a great deal to English society in an interesting effort to skewer ideas about class that were prevalent at the time when Conan Doyle was writing (and, for that matter, probably still are). But there's the tiny antisemitic reference in there, too, as Pycroft describes his employer's nose. Basically, at its heart, this story makes use of a trope that Conan Doyle sometimes employs—the convoluted hoax. Holmes doesn't actually do a whole lot in this one because the case is solved by the police, for a change, before he can get to the bottom of it.
I wouldn't put this up there among my favorites; it doesn't leave much of an impression. I believe the BBC series Sherlock makes a couple of references to this story. Watson does establish a practice after he thinks Sherlock has died, and what the viewer sees is not too different from what Watson describes in this story. I seem to recall an episode in which Sherlock visits John and makes deductions about his having been ill, but now that I'm trying to find the episode, I can't. I may be conflating it with a similar incident I've already read.
Rating: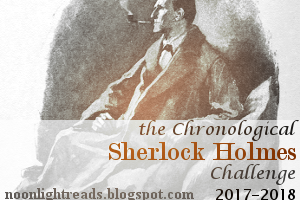 I read this story as part of the Chronological Sherlock Holmes Challenge. It is twenty-first story in the chronology (time setting rather than composition). Next up is "The Boscombe Valley Mystery."