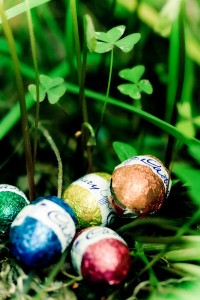 I hope everyone is having a good Easter. We have a ham in the oven. The kids received books in their Easter baskets. Dylan got The Lorax, and Maggie got The Hunger Games (that is probably kind of weird, but she has been wanting to read it). I received a gift surprise of the entire Harry Potter series in e-book format, and I decided that since I wanted to reread them anyway this year, might as well start, particularly as I was not really getting into Pandemonium. I also picked up For All the Tea in China, which looks like a great read.
If you've read and finished Pandemonium, tell me: should I keep reading it? The more I think about it's prequel, Delirium, the less I like it. I'm not sure I want to invest any more in the trilogy if I am not going to like it. I think I must be missing something because plenty of folks seem to love these books. Of course, plenty of people seem to be enjoying Fifty Shades of Grey, and I know enough about myself to know I'd hate that series, so it's not like I swim with the crowd as a matter of course.
Speaking of rereading, The Guardian has a nice piece about what authors themselves like to reread.
So what are you reading this fine Easter Sunday?

Related posts: