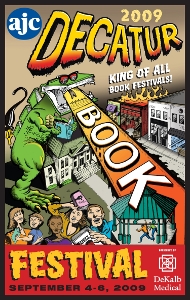 Tomorrow, the Huffs are heading to the annual Decatur Book Festival for the first time. I'll be sure to share all the fun here.
Meanwhile, I think I've finalized the selections I will read for the R.I.P. Challenge. I have decided on Peril the First, which means I plan to read four books: Dracula by Bram Stoker, Coraline by Neil Gaiman, Grendel by John Gardner, and 20th Century Ghosts by Joe Hill. I am hoping that by picking books of a manageable size that I can actually finish the challenge, but I would like to read the others on my list at some point. I had settled on Dracula and Coraline fairly early on, but what finally made me decide on Grendel was a short excerpt in a supplementary textbook I use for teaching British Lit. I can no longer claim I'm any kind of Beowulf aficionado if I haven't read Grendel. I decided on 20th Century Ghosts because of the recommendation of a Barnes and Noble employee who raved about it when I purchased it.
Meanwhile, my sister, who doesn't have a blog, is going to read The Mothman Prophecies by John A. Keel, Strange Guests by Brad Steiger, and Kiss of Midnight by Lara Adrian. She has committed to Peril the Second. Perhaps if we all ask her really nicely, she'll consent to guest blog here with her reviews. Or perhaps she will prefer to post reviews at the blog Carl has set up for the purpose. Either way, I hope she'll share her thoughts with us.