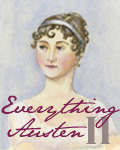 Just as the  All About the Brontës Challenge is ending, I am embarking on a new reading challenge: the Everything Austen Challenge. Regular readers know I love Jane Austen, and I'm looking forward to completing this challenge. In order to complete the challenge, which runs from July 1, 2010 to January 1, 2011, readers must choose six Austen-themed things to complete for the challenge—books, movies, and even crafts count.
The six things I have chosen are the following:
I will blog reviews of each of these Austen-related items, even though I don't usually blog movie reviews.