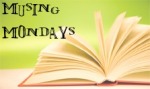 This week's musing asks: Who do you think is the hottest male/female character from a book?
Ha, ha! This is a funny question. I only had to think about it for a minute. James Alexander Malcolm MacKenzie Fraser from Diana Gabaldon's [amazon_link id="0440423201″ target="_blank" ]Outlander[/amazon_link] series, of course. Listen, my husband is a redhead, and he and all the other redheads out there can thank Jamie for making everyone else understand why redheaded men are sexy.
Why is Jamie "hot"? He is not afraid to be a man and have whatever feelings he has. He never tries to hide his feelings. He also has the courage not to impede Claire from being whatever she wants to be, which is an unusual trait in a man of his time (eighteenth century Scotland). He also loves Claire with an intense and lasting love that transcends time. He can be stubborn and frustrating at times, but honestly, it's always in a predictable way—it's usually because someone he loves feels threatened, and he thinks they are being kind of stupid. Not that they are necessarily being stupid, but that he thinks they are, mind. Another thing I like about Jamie is the joy with which he approaches life and his sense of humor. He has more funny quotes than any ten other characters in that series. In addition to all of that, he is also strong, a survivor. He has been through some of the worst humanity can throw at another person and come out the other side if not unscathed, then at least with a sense of humor and a sense of himself intact. He also shows a surprising open-mindedness for a man of his era—his affection for Lord John Grey, even after find out Grey is homosexual and is attracted to Jamie, is sincere and undiminished by the news, and his acceptance of Claire (even as outlandish as her tale truly is) is pretty remarkable.
Sorry, ladies, no pics. This one has not been made into a movie, and I prefer not to speculate (you can Google it if you're curious), but here is a link to all the Jamie Fraser merch you could want at Cafe Press.
Honorable mentions:
Fitzwilliam Darcy from [amazon_link id="0143105426″ target="_blank" ]Pride and Prejudice[/amazon_link]
Rhett Butler from [amazon_link id="1451635621″ target="_blank" ]Gone with the Wind[/amazon_link]
Louis de Pointe du Lac (had to be at least one vampire… wait, I do have another one—hang on) from Anne Rice's Vampire Chronicles, but specifically [amazon_link id="0345409647″ target="_blank" ]Interview with the Vampire[/amazon_link]
Captain Frederick Wentworth from [amazon_link id="193659451X" target="_blank" ]Persuasion[/amazon_link]
and Matthew Clairmont (no pics—no movie… yet; also my other vampire) from [amazon_link id="0670022411″ target="_blank" ]A Discovery of Witches[/amazon_link].