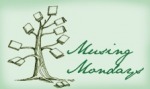 This week's musing [borrowed from an old BTT post] asks…
I once knew a man who read about WWII. He read everything he could get his hands on on the subject. He had a whole wall of books that were all about WWII. It amazed me. How could he continue to find one subject that engrossing? My mother, on the other hand, loves to read best sellers. I've known other people who read science fiction to the exclusion of everything else; for others it was philosophy, self-help, or history.

So, to the questions…

What kind of books do you like to read?
Why? Provide specific examples.
I consider myself more eclectic than the average reader, but my staple is historical fiction. I love history. It's exciting to see my younger daughter turning into a history buff. My older daughter does not like historical fiction; she prefers contemporary fiction or manga. I remember how floored I was when she told me she didn't like [amazon_link id="0547550294″ target="_blank" ]The Witch of Blackbird Pond[/amazon_link]. Granted, she read it for school instead of for pleasure, like I did when I read it, but I have enjoyed books I read for school, and the requirement to read it does not necessarily preclude enjoying it.
I have read 22 historical fiction books this year out of a total of 47 books. I would say that statistic more than any other shows my interest. I like to read about a variety of history periods, but one period I'm not much interested in is World War II. I know what you're thinking: why? It's an endlessly fascinating time period, and I get that. I happen to be more interested in Medieval, Renaissance, Restoration, Georgian, and Victorian England (so roughly 500-1900 A. D.), but I occasionally like Edwardian England, too. I have recently developed an interested in Revolutionary and Napoleonic-era France. Pretty narrow, interests, I suppose. In terms of American historical fiction, I like the Colonial era, the Revolutionary era, and the Civil War, but that's about it.
I can't say I have a weakness for any particular genre aside from historical fiction. I find it to be a fun way to learn more about history, and I myself have enjoyed the challenge of the research when writing it.