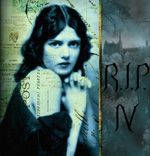 I've narrowed my book pool for the R.I.P. Challenge down to the following books:
Dracula by Bram Stoker: the classic vampire novel.
The Historian by Elizabeth Kostova: this would be a worthy follow-up for Dracula as its premise is that Dracula is *gasp* still alive.
Coraline by Neil Gaiman: I've wanted to read this book for a long time, and this challenge gives me a good excuse. A creepy, huge house, a little girl who feels ignored, and an alternate universe inside your house. Sounds great! I absolutely love Neil Gaiman, so it's a shame I've not read it.
20th Century Ghosts by Joe Hill: the bookseller at Barnes and Noble said this was a great book, and Steve enjoyed it, too. I love Joe Hill's blog and tweets, but I've not read any of his creative writing yet. This is a collection of short ghosty stories.
Jonathan Strange & Mr. Norrell by Susanna Clarke: I started this one some time ago, and I was enjoying it. This one is a dark horse contender for the challenge because it's extremely long, and I would like to actually finish the challenge this time.
Grendel by John Gardner: the Beowulf story told from the viewpoint of the monster. This one has been on my to-read list for years.
Ghostwalk by Rebecca Stott: I grabbed this one on impulse at Barnes and Noble a while back. The cover certainly looks creepy. Ghostwalk is a literary triller about Isaac Newton's alchemical experiments and a string of murders. It's only got three stars at Amazon, and I find the reviewers there are often generous. That kind of thing makes me nervous. Still will eventually give it a go since I own it.
A Dead Man in Deptford by Anthony Burgess: this one might be a long shot in terms of qualification (though Carl is very accepting as long as we think it fits the challenge). It's about Christopher Marlowe's espionage and murder.
I'm not sure which of the aforementioned books will ultimately make the challenge, but I am fairly set on Dracula and Coraline.
If you are participating in the challenge, I recommend the following books, all of which I've read. I don't like to do re-reads for challenges, but I thoroughly enjoyed all of these books: