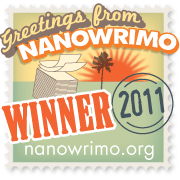 I just submitted my still-incomplete novel for validation, and I am so excited because…
I feel like I should give a speech or something. First, I would like to thank my husband and kids for respecting my need to do this and for giving me the time and space to write. If Steve hadn't taken this project seriously and supported my efforts to complete it, I just wouldn't have completed it.
I want to thank Helen Fielding, Sarah Addison Allen, and all the other chick lit writers for giving me a model of the kind of story I wanted to write.
I want to thank Jane Austen and William Shakespeare.
I want to thank Scrivener, which is an excellent app that I will now be able to buy for 50% off because I won! Seriously, this app enabled me to plan and move text around, and it gave me the freedom to write and organize all of my notes in one place. Plus their word count was really accurate. I think the discrepancy between my Scrivener word count and the official NaNo word count was only 34 words, which is really close.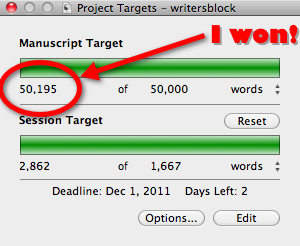 I think my MS Word count differed by a lot more than that when I won in 2009. Even though this is the second time I've won NaNaWriMo, it doesn't feel any less thrilling. I don't feel less a sense of accomplishment. I feel as exhilarated as I did the first time, and perhaps even more so because I managed to win even though I went out of town to a conference.
Here's to hoping I can finish the darned thing. I think this one could be publishable if I can get it into shape, but then most writers probably think that about their work, or they wouldn't bother. Still, at this point it's too soon to be discouraged, especially because I managed to write 50,000 words of my novel in 30 days. Actually, 29.