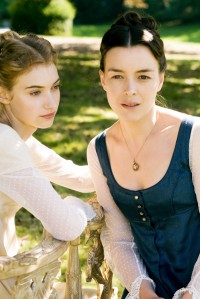 The BBC film Miss Austen Regrets has a bit of a misleading title. As Austen's niece Fanny reaches an age at which she is considering marriage to Mr. John Plumptre, she seeks her Aunt Jane's advice regarding the potential match. The film examines Jane's choices as she reflects on the potential of her niece. Fanny fears marrying too soon only to discover "Mr. Darcy" later. As Jane tells Fanny, "My darling girl. The only way to get a Mr. Darcy is to make him up." The movie centers on the last few years of Jane Austen's life, as she publishes Emma and writes Persuasion.
What I liked about the movie was its beautiful shots and costumes. Fanny was especially pretty. It was also refreshing to see a film portray the author as clever, attractive, and witty. I think too often the conclusion is drawn that because Austen never married she must have been uninteresting to men, especially as she aged. Indeed, Olivia Williams's Jane Austen attracts men younger than herself. I also enjoyed seeing Jane and Cassandra's close relationship and Jane's relationship with her brothers Henry and Edward.
What I didn't like is the pervading gloom and doom. Worries over money plague Olivia Williams's Jane Austen, which was probably true in life, but in this film, these concerns are rarely leavened with moments of joy or even contentment.
Olivia Williams's portrayal of Jane Austen rings true. Imogen Poots as Fanny also displays some fine talent, particularly when she realizes her Aunt Jane is dying. Of the portrayals of Jane's life I've seen on screen, this one is probably closer to the truth, but the fact is that there is much we can never know about Jane's private life: her passion, her love interests, her flirtations. In all, I felt the movie a little uneven. I didn't feel the sense of contentment I usually feel connected with Jane Austen. I said on Twitter the other day that she's my literary comfort food, and this movie is a bit too ambiguous to feel comfortable. It was certainly a pleasure to see Jane penning my favorite of her novels—Persuasion.
Here's a clip from the movie. Jane is talking to former love interest Brook Edward Bridges.
http://www.youtube.com/watch?v=Pddz_MR1WkY
You can read more about the movie, including reviews from other Janeites:
Rating: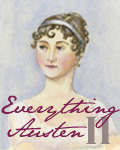 I viewed this film as part of the Everything Austen Challenge.
Image © BBC and used here according to the Fair Use doctrine.