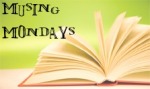 This week's musing asks…
Describe the last time you were stumped for something to read, and you took measures to remedy that—either by going to the bookstore, the library, or shopping elsewhere. What book did you choose? Did it get you out of your slump?
My problem is never lacking for something to read, but I often have trouble choosing what to read next. One thing I have done to solve my dilemma in the past is to lay my choices in front of my daughter Maggie and ask her to choose for me. The last time I asked Maggie was a long time ago, and I can no longer remember what she chose for me. I also asked readers to vote on my next book once when I was stumped. They chose [amazon_link id="0060558121″ target="_blank" ]American Gods[/amazon_link]. Most recently, I have also used the Randomizer after assigning numbers to around five choices. It chose Melanie Clegg's [amazon_link id="B004R1Q9PI" target="_blank" ]The Secret Diary of a Princess[/amazon_link], which I was leaning toward reading next anyway. I can't really say I've been in a slump for a very long time. I just read whatever I have on hand or I download something new on my [amazon_link id="B002FQJT3Q" target="_blank" ]Kindle[/amazon_link].
Speaking of going to the bookstore, you know, I can't remember the last time I went to one. I usually order books from Amazon or download them on my Kindle. I know I should frequent indie stores, but the closest one I know of (besides the used bookstores) is one all the way over in Decatur, and whenever we go to the Decatur Book Festival, we do in fact visit the Little Shop of Stories. However, I also note that I pay more for books in places like that. As an Amazon Associate, I earn a bit of a commission whenever people buy books I link to or visit Amazon and purchase items after following a link from my site. Most months, my commission is enough to buy two books. Some months, it's more than that. I consider it fair trade for all the business I throw their way, and in turn, I use the gift certificates I earn from Amazon to purchase more books. It's more cost effective for me to shop at Amazon than it is an indie store—on a variety of levels. And bottom line? I am a happy customer. They've always been good to me; even after I broke my Kindle, they asked no questions and replaced it free of charge. I have never had a complaint with them. My only quibble is that they won't allow associates to delete associate ID's they no longer use, and I have about three of those.
I haven't been to the library in a long time either. Here is my problem with libraries: I don't like the time pressure to finish books, and I am almost always late returning books. I also like to be able to keep books I liked and perhaps even mark in them. Libraries are so important. They perform critical functions in our society. Keeping up with library books nowadays isn't all that difficult. I can check my account online. I have just found it one more thing I have trouble keeping track of.
I don't often buy books from other types of stores. The selections are just too sparse and not usually to my taste. One place I do find lots of good books is from other book bloggers. I heard about most of the books I've picked up lately from a fellow book blogger or from Goodreads.